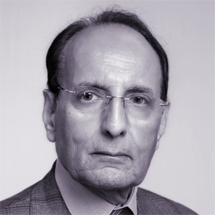 Professor Mohammad Haq Nawaz
United States of America - South West: Arizona, New Mexico, Texas, Oklahoma
Further Information
Professor Mohammad Haq Nawaz, MD, FCPS Pk, FCPS BD, FRCP Edin, FRCPSG, FRCP London, FACP, FCCP, PCPS Pk
Professor and Head of Department of Clinical Medicine and Consultant Physician, with special interest in Endocrinology and Pulmonology. Former Dean of Medical Schools & Chairman Academic Councils. Former President College of Physicians & Surgeons of Pakistan. Member Editorial Boards of Prestigious Clinical Journals, has authored multiple clinical case reports, clinical papers and published books of Clinical Methods for medical students, Global Impact of Tuberculosis and handbook for Diabetic Patients in English and Arabic Languages. Professor Nawaz presided many clinical symposia and seminars at home and abroad. He has also trained and examined medical students for undergraduate and post-graduate examinations at home and abroad for over 25 years.
Being in that position he was part of the team developing reciprocity for undergraduate and post-graduate qualifications of Pakistan with examining bodies and licensing organizations of USA, UK, Malaysia, UAE, and Australia.
Professor Nawaz has been WHO National Coordinator for Environment for Pakistan and Provincial Coordinator for Medical Education for the Province of Punjab. He has been Member, Pakistan Medical and Dental Council and Member of the Senate Committee for developing the Vocabulary of Medical Stores Depot in Punjab and in Pakistan.