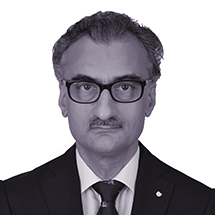 Further Information
Biography
Primary Position: Consultant Gastroenterologist and Chief Medical Officer
Place of work: Shaukat Khanum Memorial Cancer Hospital & Research Centre, Lahore
I graduated from the King Edward Medical College, in Lahore, in 1986 and went to the UK for postgraduate training thereafter. I qualified MRCP (UK) in 1991 and trained in gastroenterology. I returned to Pakistan in December 1994, joining the Shaukat Khanum Memorial Cancer Hospital & Research Centre, Lahore as a consultant gastroenterologist and a member of the commissioning team. I was elected to fellowship of the RCPE in 2000. I was the Medical Director of the hospital from 2004-2015, when I was appointed Chief Medical Officer for both our hospitals, in Lahore and Peshawar, overseeing all clinical activity and clinical quality at both sites.
I have been responsible for development of site specialisation and multi-disciplinary teams for cancer treatment, a robust system of 360-degree physician appraisal, clinical governance, a population-based tumour registry and for development of clinical quality indicators for the hospital, which are presented regularly to our governing board. I headed the commissioning team for our second cancer hospital, in Peshawar, which opened in December 2015.
I am a supervisor for postgraduate training in gastroenterology and continue to practice, my main clinical interests being in advanced pancreatico-biliary endoscopy and endoscopic ultrasound, on which I have published extensively over the last five years.