Designatory Letters:
BSc Edin 1978, MB Edin 1981, FRCPE Edin 1993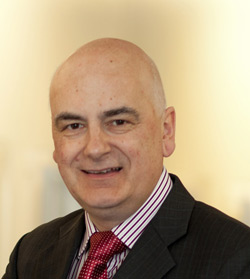 (Contributed by Nicki Colledge, Andrew Elder and Andrew Coull)
Brian Chapman died peacefully at his home on Thursday 9 February after a long battle against renal cancer.
Born in Edinburgh, Brian attended Daniel Stewart's School where he was Dux, and then entered medical school at the University of Edinburgh. He met his wife Dorothy there and they spent a memorable student elective in South Africa, narrowly avoiding being charged by an elephant. They became engaged on their return.  He qualified BSc (2.1 in Biochemistry) and MB ChB in 1981.
After  house jobs, he was appointed to a Senior House Officer rotation in Edinburgh and initially explored a career in respiratory medicine. However, after diagnosing an elderly patient attending a Respiratory Clinic with Parkinson's Disease, he came to the attention of Roger Smith, a Senior Lecturer in Geriatric Medicine who persuaded him to apply for a post in the specialty. Brian's subsequent contribution to the specialty was immense.
After holding training posts at the City and Longmore Hospitals in Edinburgh, Brian became the first Consultant Physician in Geriatric and Acute Medicine at the Royal Infirmary of Edinburgh in 1989. At that time geriatric medicine was regarded with deep suspicion by many in other specialties. Brian quickly gained the respect of his specialty colleagues due to his superb clinical skills both within the specialty and on Acute Receiving. He became the Clinical Director of Medicine of the Elderly services in 1996 and under his leadership the specialty became the largest in the hospital. He also set up an Acute Stroke service. To achieve this without alienating the other specialties is a tribute to his outstanding negotiating skills and the respect in which he was held. He worked tirelessly on many committees and working groups to put the case for services for older people at a national and local level, contributing enormously to the expansion of geriatric services across Edinburgh. Brian inspired many trainees to join the specialty and was a mentor to many consultant colleagues. His advice was always consistent, considered and invariably sound. Colleagues in all specialties sought out his clinical opinion and frequently asked him to care for their older relatives. He gave his time freely to patients, their families and colleagues in need.
Brian also found time to contribute to the Royal College of Physicians of Edinburgh as Chair of the Symposium Committee , a regular Host Examiner in the PACES exam and latterly Assistant Registrar of the College. He was a recent Secretary and Treasurer of the Scottish Branch of the British Geriatrics Society and was awarded the President's Medal by the British Geriatrics Society in 2010. Brian also worked as Principal Medical Officer at Scottish Widows.
Brian was devoted to his family and enjoyed travelling the world with them on holiday. He enjoyed many sports but was a rugby fanatic, managing to land the job of 'Crowd Doctor' at the Scotland rugby international games at Murrayfield. He was very active within his church, contributing as Session Clerk for a long period. He developed an interest in contemporary Scottish art in his later years.
In 2006, Brian was diagnosed with renal cancer. He accepted this with equanimity and was remarkable for the open and dignified way in which he dealt with the many subsequent adversities. He drew great comfort from his faith. Brian continued working despite considerable pain and fatigue until he was forced to take early retirement in 2010. It is a tribute to him that so many colleagues continued to visit him and share current issues – his advice was always relevant and considered. This counsel continues to guide others charged with developing future Medicine of the Elderly services in Edinburgh.
He is survived by Dorothy and his children Fiona, Andrew (both Foundation Doctors) and Gavin (a medical student). He was immensely proud of their achievements. Brian will be greatly missed by his colleagues throughout Scotland.