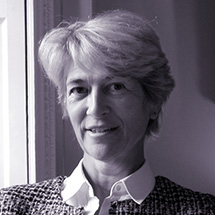 Heritage Trustee and Honorary Librarian
Faculty of Pharmaceutical Medicine
Further Information
Angela became a Fellow of the College in 1994 and has been involved in the work of the College for over 20 years, most recently as the Director of Heritage.
After qualifying in medicine from London's St Bartholomew's Hospital Medical School in 1980, Angela trained in adult haematology, subsequently specialising in paediatric haematology. She worked as a consultant at the Royal Hospital for Sick Children, Edinburgh, where she is currently working as part of the COVID-19 response. She was a fellow in molecular biology at University College London, and was awarded a PhD.
In addition, Angela was Director of the haemophilia centre at the city's Royal Infirmary until June 2017. She has played a lead role in the regulation of medicines at a National, European and International level since 2002 and was vice chair of the UK government's Commission on Human Medicines until December 2018.
Angela Thomas is former president of the British Society for Haematology and was appointed honorary professor in the College of Medicine and Veterinary Medicine, University of Edinburgh, in August 2015. She has a particular interest in congenital and acquired bleeding disorders, particularly in the context of non-accidental injury, and has published and lectured extensively in this area.
Angela was awarded an OBE for her services to the Regulation of Medicines for the protection and promotion of Public Health in the 2018 New Year's Honours List. She continues to work for the licensing authority (MHRA) on the efficacy and safety of medicines.