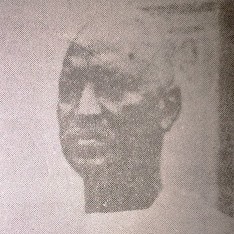 (9 June 1861-4 June 1935)
Dr Sapara was born in Freetown, Sierra Lione, in 1861. His parents were freed slaves from present-day south-western Nigeria.
After his schooling, first in Freetown and then in Lagos, Sapara undertook various jobs in Lagos and the Gold Coast, including in a printing office and as a hospital dispenser, and the Gold Coast before travelling to England in 1887 to study medicine.
There, he studied at St Thomas' Hospital Medical School in London. Sapara then went to Edinburgh to continue his studies and in 1895 he obtained Licentiateship of the Royal College of Physicians of Edinburgh and the Fellowship of the Royal Institute of Public Health. He returned to Lagos later that year and joined the colonial medical service as Assistant Colonial Surgeon.
Sapara worked at a number of stations throughout Lagos and initiated various public health improvements in each post. In 1900, in the settlement of Ebute-Metta, he established a system for improving sanitation. In 1901 he was instrumental in establishing a village dispensary in Saki and another in Abeokuta.
He also campaigned extensively against arm-to-arm vaccination (rather than fresh lymph) and produced a report on the actions needed to combat smallpox – a report whose recommendations were adopted by the government.
Sapara was also concerned with infant and maternal mortality rates during childbirth and was involved in revising the curriculum for nurses and midwives at the Massey Street Hospital – viewing training as key to infant and maternal welfare.
He also advocated for improved labour facilities which led to the development of a new maternity wing for the Massey Street Dispensary in Lagos. Sapara headed the dispensary, as well as being key to its rebuilding.
Sapara received a number of honours towards the end of his working life, including the Imperial Service Order and a chieftaincy title, bestowed by the Owa of Ijeshaland. He died on 4th June 1935.