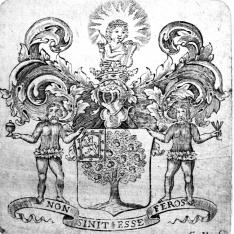 Incorporated by Royal Charter in 1681, the College took advantage of its rights under the letters patent to design itself a seal in the following year.
It appears, however, that the process of obtaining a Royal Warrant, to formally register this design as the Arms of the College, was not undertaken.
An eighteenth century draft, detailing one proposed design for the College Arms, makes for slightly gruesome reading. The design was to be 'wreathed about with a dead Serpent distilling drops of blood' and show 'A Game Cock in the Crowing posture, trampling on a serpent' as well as 'the godess Hygieia, bruising a serpent beneath her feet all proper'.
It was only in 1897, on the advice of an Advocate, that the sitting Council became aware that the formal registration of the College Arms had never taken place. Matriculation of the Arms was finally effected on the 5th April 1900.
The newly registered description of this Coat of Arms, as recorded in the Public Register, detailed:
'Argent, issuing from a mount in base an oak tree proper fructed Or, on a canton of the last a lion rampant... issuing out of a ducal coronet the figure of Apollo couped at the waist with bow and quiver on his back and holding a lyre in his hands wreathed about the temples with a garland of bay all proper and in an Escrol over this Motto NON SINIT ESSE FEROS. And upon a compartment below the Shield are placed for Supporters two savages wreathed about the middle with oak proper the one on the dexter holding in his exterior hand a covered cup Or and that on the sinister a sprig of rue Vert.'
Three papers have been compiled which delve into more detail regarding the College Arms, their symbolism and history: