Specialty:
Haematology/Blood Transfusion Medicine
Designatory Letters:
MB Otago 1938, MRCP Edin 1947, FRCP Edin 1958, FRACP 1966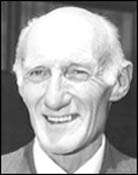 Blood transfusion pioneer. Died aged 91.
The path towards John "Jock" Staveley's knighthood for his role as a pioneer in the field of blood transfusion began with five years of war.
Newly married to cellist Elvira Wycherley, he volunteered for active service abroad in World War II and served in Greece, escaping to Crete, then Syria, Egypt, Libya, and Italy.
After he recovered from wounds received in an ambush in Greece, he was made malarial control officer with Lieutenant-General Sir Bernard Freyberg's New Zealand division in Syria.
"Most of the initial symptoms of malaria show up in blood manifestations, so I became interested," he said. Severely wounded twice, a prisoner of war twice, he returned with a Military Cross and a determination to work in the fast-developing field of blood transfusion. "Having seen on such a scale [in field hospitals] what could be achieved by blood transfusion, my interest never wavered," he wrote.
Following post-graduate study in London and Edinburgh, he was appointed pathologist and then haematologist to the Auckland Hospital Board and set about establishing a blood bank run by the board, and laboratories and donor rooms in all the major hospitals.
The next two decades were exciting. The demand for blood and blood products grew dramatically for not only Green Lane Hospital's famous 1960s pioneering of cardiac bypass surgery, but also for orthopaedics, obstetrics and gynaecology. Blood diseases and the mounting road toll contributed to the challenge, as did forensic work.
A mobile blood collection unit was established, the Auckland Blood Transfusion Centre was opened in 1968 and New Zealand's work in transfusion medicine, largely through Sir John, became known and admired in Britain, the United States and Australia.
Research into Maori blood groups was triggered by the possibility that different blood groups might indicate differing places of origin. With the help of the Maori Affairs Department he traced more than 500 pure-blooded Maori, and compared their blood types with those of a variety of Pacific Islanders. Results were inconclusive, and he concluded that the distribution of blood groups throughout the Pacific was more geographical than racial.
Sir John's high standards and integrity were unquestioned. He recognised that he and the blood service were often seen as backroom boys, and he remained fiercely loyal to his vision, his patients and his staff. He frequently locked horns with the Wellington health bureaucracy and the medical Establishment.
Eye problems followed a small brain haemorrhage in the early 1960s, which permanently slowed his reading and hindered his international activities. It was a cruel, hidden disability for someone famed for his quickness of thought in debate and decision-making. His movements slowed, especially during his regular walks through Newmarket for more than 30 years on his way to and from work.
Knighted in 1979, having taken early retirement at 62, he served as medical director of the Blood Foundation of New Zealand for 10 years and enjoyed a lengthy retirement in Taupo and Auckland, as patron of the Haemophilia Foundation and the Ngauruhoe Ski Club.
Sir John was born in Hokitika and educated at Timaru Boys' High School. As a a teenager he climbed with some of Southern Alps' best. But the influence of his early mentor Dr Harry Buchanan swung the decision towards medicine, and in 1938 he graduated from Otago Medical School to become a junior resident medical officer at Auckland Hospital.
Despite an old war knee injury and a dicky ticker, he climbed well into his 70s, studied astronomy, avidly followed politics and composed songs and light music into his 90s.
The devoted grandfather to six and great-grandfather to two was widowed in 1992. Self-reliant nearly to the end, he died at his Northcote home on May 14, only days after writing to the Haemophilia Foundation congratulating it on the apology and compensation recently won from the Government regarding hepatitis C testing.
As summed up by a former close laboratory colleague, everything he did, he did for others, never himself.
The New Zealand Blood Service, which he envisioned in the 1950s and saw finally established in 1998 with its headquarters in Auckland, is his legacy.
This obituary was written by Tessa Duder (nee Staveley). It first appeared in the 27 May 2006 issue of the New Zealand Herald.