Specialty:
Paediatrics/Community Child Health
Designatory Letters:
MB Malaya 1952, MRCP Edin 1957 Child Life, DCH 1957, FRCP Edin 1964, FRACP 1967, FRCPS Glasg 1968, FRCPCH 1996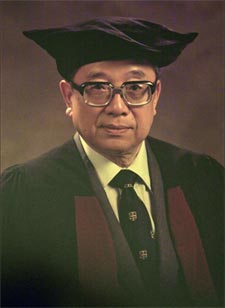 (Based on a Eulogy contributed by Dr. William C.L. Yip)
Professor Wong graduated from the then University of Malaya in Singapore in 1952. He was offered the Founder Chair of Paediatrics in 1962 by the University of Singapore and was appointed Founder Director of the School of Postgraduate Medical Studies in 1965. He retired from the National University of Singapore in 1988. With the quiet and steadfast support of Mrs. Wong, his entire professional life was dedicated to teaching, research and patient care, benefiting generations of doctors and children. As one of his students in 1972 then one of his housemen in 1974 until I eventually became his associate professor in 1987, I witnessed his devotion, enthusiasm, perseverance, humility and gentleness in imparting knowledge and mentoring his students and young doctors. I therefore consider myself very much blessed that I walked a good part of my life together with him, in my formative years during my professional training and learning to be a patient-caring physician. I treasured his teaching in the intellectually stimulating daily grand ward-round and in the weekly clinical conference during which the basics as well as advances of the science and art of paediatrics were imparted. As the Founder Director of the School of Postgraduate Medical Studies, he had the foresight to set up the annual Master of Medicine Course, during which he invited four or five eminent overseas experts to teach us, prior to the final Master of Medicine Examination. Although I soon realized that none of these experts' total quantum of knowledge could match up to his, this valuable teaching course gave me and my contemporaries early exposure to the best of medicine in the Western world and an opportunity to establish our network for subspecialty training. In many other ways he taught me by example to be generous with my time in teaching students and young doctors and in devotion to patient care.
The great physician William Osler said, "The practice of medicine is a calling". Few have understood the true meaning, let alone walk the talk, better than Professor Wong. His devotion to the daily grand ward-round with the whole department starting from 7.30am three hundred sixty five days a year, solving clinical problems for all patients, regardless of social class, to the weekly clinical conferences teaching the postgraduate students, and to the weekly professorial tutorials teaching the undergraduate students posted to the department, is legendary. Solving clinical problems was his self-imposed responsibility. Immediately after the round he would write down on a small piece of paper the difficult problems. Then he would go to the medical library checking in Index Medicus to look up for the latest advances. All these monumental efforts of self learning and teaching of students culminated in 52 volumes of the Paediatric Clinical Conference Notes. All batches of Master of Medicine students and many overseas students from the surrounding countries prior to his retirement fed on these pre-digested staple diets. Professor Wong retired in 1988.
His achievement in research are recorded in hundreds of scientific papers published in international, local and regional medical journals, and include landmark discoveries in haematology and genetics. His administrative duties, besides running the Department and the School of Postgraduate Medical Studies, included setting up many national and international steering committees. For all these achievements, he was awarded many national and international prestigious accolades.
Professor Wong was truly a person of few words, as all his energy was channelled to teaching, patient care, research and administration. I never saw him angry with any hospital staff or his doctors. He never belittled any of his staff, no matter how stupid we might sometimes be. The most junior doctor could ask him any question and he would answer. Those of us who lived in that era knew that not all bosses were so nice. Indeed feedback from current batches of junior doctors shows that such problem still exists, perhaps to a lesser degree.
Before his retirement, I was just like one of his many doctors. When he was my boss, I respected, or even revered him. My conversation with him lasted no more than one minute, yet his answer was always precise and helpful. After his retirement, I visited him more often, especially after his coronary bypass, when Julia was working in Boston, and in the past few years when he was unwell. Our conversation still did not last longer than 15 minutes. But he knew that I and my family loved him, and I also told him many times that many of his students love him, but did not have a chance to express it..
Professor Wong was truly a family man. He was very blessed to have a totally devoted wife who looked after him with love and admiration. He trusted her completely. Without Mrs. Wong's continuous support, it would be difficult to assess his achievements. Professor Wong loved his only daughter, Julia, with all his heart, indeed in a way only fathers with only one daughter will know. Julia has done her parents proud in her own achievement working previously in Singapore and in Boston as a paediatrician and now devoting much time in doing missionary work to help the poor people of the surrounding countries, very much after the heart of her mother. In the last few years when Professor Wong was unwell, Julia and her husband Tom, together with Mrs. Wong, took care of Professor Wong's need with total devotion and love.
With the passing of Professor Wong Hock Boon on 28th December 2008, Singapore has lost a truly great son. We grieve and are saddened but we thank God for him and all he achieved. May God comfort and continue to bless, guide, protect and strengthen the spiritual and physical health of Mrs Wong, Julia, Tom, and their loved ones. May God bless the hands of those who continue to do good work, following the example of Professor Wong Hock Boon.