Specialty:
General Internal Medicine
Designatory Letters:
LSMF Punjab 1942, MB Punjab 1948, MRCP Edin 1952, FRCP Edin 1963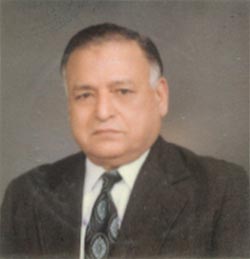 (Contributed by Dr Sarmad Alamgir)
Prof. M. Alamgir Khan was born in Ludhiana (India) on 1st October, 1921. He did his L.S.M.F in 1942 from Amritsar Medical School (India) and served in the British Army from 1943-1947.
He worked for Pakistan Red Cross Medical Mission to Azad Kashmir. In 1948, he took his M.B.B.S degree from Punjab University.
He proceeded to the United Kingdom on a British Council scholarship and was elected as a Member of Royal College of Physicians (Edinburgh) in1952. In Britain he worked as Senior Resident to Prof. Sir John Mc Michael at the British Post-graduate Medical School, Hammer Smith Hospital, London. Here he developed an interest in the management of hypertension. His work "Effects of Hydralazine in Hypertension" was published in the BMJ in January, 1953.
Later, he was offered a post at St. Benedicts Hospital, London where his research interests included the role of liver therapy in Disseminated Sclerosis, and the problem of incontinence in elderly people.
He returned to Pakistan in 1953 and worked in various teaching hospitals. He was elected a Fellow of Royal College of Physicians of Edinburgh in 1963.
On 1st April, 1981 he retired as the Head of the Department of Medicine, King Edward Medical College, Lahore and Medical Superintendent Mayo Hospital, Lahore. He was re-employed as Director, Institute of Experimental Medicine Lahore, where his research interests were Cancer and the Leukaemias. He was also appointed as Honorary Physician to the President of Pakistan.
Prof. M. Alamgir Khan was involved in various social service projects and organized the Charitable Medicine Bank at Mayo Hospital, Lahore. He also served as Honorary Chief Administrator at Fatima Memorial Hospital, Lahore - a charitable institution.
His main passion in life was promotion of medical research in Pakistan. His research work and publications include about 25 papers. Apart from his medical interests, he wrote about four hundred articles in leading newspapers, on subjects concerning the welfare of the common man, education and political conditions of Pakistan.
He passed away on 21st November 2003, at the age of 82 leaving behind a widow, a daughter and four sons – all of them doctors; one, presently working as Consultant Cardiologist at Royal Hull infirmary, United Kingdom.