Specialty:
Respiratory/Thoracic Medicine
Designatory Letters:
MB Dhaka 1956, DTCD Wales 1965, MRCP Edin 1966, Fellowship 1980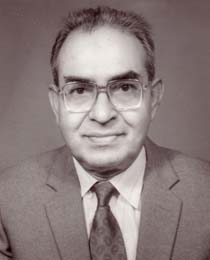 (Contributed by Dr Syed Atigul Haq)
Professor Haq passed away at age 72 on August 28, 2006 in Dhaka. He is survived by his wife, two sons, a daughter, their spouses and three grandchildren.
Professor Nurul Haq has been a devoted physician who served his country Bangladesh for 50 years. He graduated from Dhaka Medical College in 1956. He went to U.K. in 1963 on a Commonwealth scholarship to pursue postgraduate training in Medicine. He successfully completed all the requirements to become a proud member of the Royal College of Physicians of Glasgow in 1965 and of Edinburgh in 1966. He returned to his homeland and joined the faculty at Sylhet Medical College. After one year, he was appointed as an Associate Professor of Medicine at Sir Salimullah Medical College in Dhaka. He was promoted to Professor of Medicine in 1972. In 1983, he became the Director of the Diseases of the Chest & Hospital in Dhaka. By then, he had become a renowned leading expert in treating patients with tuberculosis which is widespread in the Indian subcontinent. In 1980, the Royal College of Physicians awarded him its Fellowship. He retired from the government services in 1988 and continued working in his private practice in Dhaka. During his long and meaningful career he often reached out to those who were less fortunate in the society. His greatest gift was his kindness and compassion, expressed by his enormous generosity and tireless devotion for Medicine. He was the recipient of a gold medal by the Chest and Heart Association of Bangladesh in 2005 for his significant contribution to Medicine in Bangladesh.
The family would like to express warm gratitude to the Royal College of Physicians of Edinburgh for all its professional recognition and support to Professor Nurul Haq during the past 40 years.