Designatory Letters:
MB St And 1960, DPM 1963, MRCP Edin 1964 Psych, MRCPsych 1971 FRCP Edin 1972, FRCPsych 1979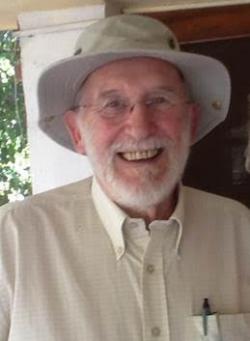 Monty Barker was born in Glasgow on 12 March 1934, the oldest of four boys, and attended the local village school where he had to take a wet sponge to wipe the slates clean. He learned the alphabet by making letters in plasticine. After Hutchesons' Grammar School, he studied classics before turning to medicine with the aim of becoming a medical missionary to China, but as a young medical student he was struck down with tuberculous meningitis in 1954 and expected to die. He was among the first to receive triple therapy for tuberculosis, and part of his treatment included intrathecal streptomycin necessitating daily lumbar punctures for a month.
Despite failing his first year examinations at St Andrew's University he still was able to graduate 'cum laude'. After graduating he worked for Sir Ian Hill, physician to the Queen in Scotland, but it was another senior physician, Dr Charles Anderson, who had been the first doctor into Belsen when it was liberated in 1945, who asked Monty one day about his future and whether he had ever thought of psychiatry, adding the helpful comment 'You don't have to be bonkers to become a psychiatrist'. This clarified his calling and in 1963 he was appointed lecturer in psychiatry in the University of Dundee under Professor Sir Ivor Batchelor where he was involved in several areas of research, on nominal aphasia in dementia and dyslexia as a cause of psychiatric disorders in adults, but a key paper published in the BMJ was his investigation into psychiatric illness after hysterectomy.
In 1968 he was appointed to a consultant post at Barrow Hospital, Bristol, where he investigated, with another colleague, the mental health of individuals reporting an experience of being possessed by demons. This unique contribution to the literature attracted national media interest.
An elder in the Church of Scotland, and a licensed lay minister in the Church of England, he grappled with issues of faith and spirituality in psychiatric practice. He was also an expert in Scottish Church history, and many of the 10,000 volumes in his library were theological rather than medical in nature.
He applied an intellectual rigour and broad philosophical and historical knowledge that was recognised in his being awarded a Templeton lectureship, delivered in Bristol University in 1995.
He lectured in pastoral studies at St Andrews and Trinity College, Bristol, and then for many years in the Faculté de Theologie at Vaux-sur-Seine, Paris. From 1988 he taught at the Union Biblical Seminary, Pune, India, where he was appointed visiting professor. Twenty-six years later, with no missed years, he and his wife Rosemary were there once again, in January 2015.
Perceptive and penetrating, both in conversation and clinical encounters, with the disconcerting tendency to raise one eyebrow in questioning mode, a key question to his patients, and often to his students was 'What makes life tick for you?'
He was an inspirational and entertaining teacher, attracting promising postgraduates to work with him in Bristol. Although his approach could be intimidating and was certainly perceived by some as overly combative, behind his no-nonsense façade lay a deep and genuine kindness. He became adviser, counsellor, mentor, and friend to many, investing much of his time in students and young people. Many enjoyed the regular hospitality that he and his wife, Rosemary, offered in their Bristol home.
Monty Barker leaves his influence on a generation of medical students and psychiatric trainees, pastors, ministers and priests in the UK, France and India. He leaves his wife, Rosemary; children Nicola and Jonathan and their partners; and grandchildren Sam and Eleanor.
David Cranston DPhil, FRCS
Associate Professor of Surgery, Nuffield Department of Surgical Sciences, University of Oxford