Designatory Letters:
MB Sri Lanka 1954, MD Sri Lanka 1958, MRCP Edin 1960 Cardio, MRCP Lond 1960, FRCP Lond 1981, FRCP Edin 1982, FCP Sri Lanka 1995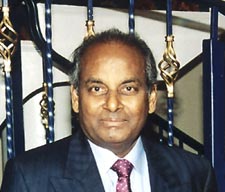 (Based on information supplied by his family and friends)
Judging by the many, many tributes paid to him by past students, colleagues, patients, family and friends Mailoo Visuveratnam was an outstanding physician and a man of the highest integrity
Whilst at school in Jaffna he won a scholarship to the Medical College of the Royal College Colombo. There he had a brilliant career, graduating in 1954, followed by junior posts in Colombo and in Batticaloa. This was followed by research work under the tutelage of Professor Blaze, leading to his MD in 1958
It was while working in Batticaloa that he not only won the respect and trust of many patients but where he also won the heart of his lady house officer, later to be his wife.
On another scholarship he went to London and soon gained his MRCP, the joke amongst his many friends there being that if he failed to get his Membership there must be something wrong with the Membership. He then returned as consultant physician to Batticaloa, then Kununegala, Jaffna and finally Kandy where he spends many happy years, outstanding in his profession but also an excellent badminton and tennis player.
Inevitably many must have wondered why he never moved to Colombo where he could have enjoyed a highly lucrative private practice but that was not his way. He was brilliant but modest, blessed with that most uncommon thing "common sense", a man of gentleness, graciousness and with no time for pomposity. As a professor friend of more than 30 years wrote of him "In a world bereft of people with integrity he was a breath of fresh air. …He was not interested in titles or positions." Another physician who first came under his spell as a third year student says of his influence at Luton and Dunstable Hospital, England " He paved the way for me to imbibe the values of his spiritual, philosophical, cultural desire and richness. I cherished every moment spent with him." Another says of him "Visva was a person with a spirituality that transcended the narrow confines of organised religion. He had achieved a blessed assurance and an understanding of the meaning of life. We came to know him, to love him and now, to miss him."