Designatory Letters:
MB Sydney 1945, DPH Sydney 1948, DTM&H L'pool 1949, DPH Edin1949, MRCP Edin 1952, DPath 1971, FRCP Edin 1988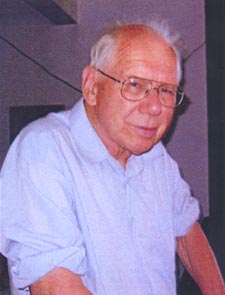 (Contributed by Mrs Olive Bolliger)
Walter Bolliger as born in Switzerland in 1923. The family emigrated to Australia in 1928. He graduated in medicine from Sydney University in 1945.
He worked his way to the UK in 1948, studied there and gained valuable experience and several additional qualifications, gaining his MRCP Edin. in 1952.
Returning to Australia in 1948 he found many of his friends married with families. He had a bike!
He worked in the fields of Public Health and Industrial Hygiene in Melbourne. For eight weeks he relieved the Flying Doctor in the NW of Western Australia in 1955. In 1956 he became Director of the STD Clinic in Melbourne, a position he held for 8 years. In 1961 he took leave to work with the Australian Red Cross in the Congo.
In 1966 he turned to Pathology and remained in that field for the rest of his professional life. Forced to retire from permanent employment at 65 because of age limitations he began working as a locum in country hospitals throughout the continent. He loved this life and was much in demand. In 1993 he worked in Asmara, Eritrea for 3 weeks.
He was married with 5 children and 10 grandchildren.