Designatory Letters:
MB Chittagong 1978, FRCP Edin 2005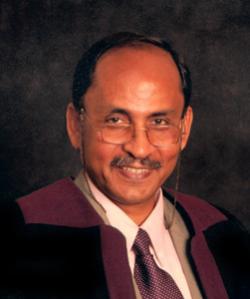 (Contributed by Dr Lutfun Nisa, wife of Professor Ahmed)
Dr Syed Kamaluddin passed away on Wednesday 21 December, 2011. He was 58 years old and died from illness related to stomach cancer. At the time of his death Dr Ahmed held the position of Professor of Psychiatry at the Holy Family Red Crescent Medical College in Dhaka, Bangladesh.
A 1978 graduate from Chittagong Medical College, Chittagong, Bangladesh, Dr Ahmed received his Fellowship (FCPS) in Psychiatry from Bangladesh College of Physicians and Surgeons in July 1982 and received fellowship training at different reputed academic institutes abroad including the National Institute of Mental Health and Research (NIMHANS), India, University of Colombo, Sri Lanka and the World Health Organization (WHO) Collaborating Centre for Research in Mental Health at McGill University in Montreal, Canada. He received a Fellowship (FRCPE) from the Royal College of Physicians of Edinburgh in 2005.
In his long career in psychiatry Dr Ahmed worked for Bangladesh Health Services for about 18 years and became a faculty member in the Institute of Postgraduate Medicine Research in 1984 and an associate professor in 1989. He worked there until 1993. Later he became the Chief Consultant and Director of the Central Drug Addiction Treatment Centre of the Government of Bangladesh and continued his office there until 1996. Subsequently, Dr Ahmed worked for the United Nations Drug Control Programme (UNDCP) and the United Nations Development Programme (UNDP) at home and abroad as 'drug demand reduction' and 'behaviour change' specialist. He led a UNDCP mission to Maldives in 1998 to develop their drug demand reduction programme.
Dr Ahmed's main research interest was in biological psychiatry, behavioural intervention and drug misuse. He was also an expert in rapid assessment studies and GIS mapping. There are more than 40 publications to his credit. He was one of the principal investigators of the first ever epidemiological study on substance abuse in Bangladesh, sponsored by WHO. He was also an expert in medical ethnography and his work on the pattern of buprenorphine use in Bangladesh was a landmark investigation in drug abuse research in this region. He developed and validated the 'Bangla' version of the Present State Examintion (PSE), which is very often used by local researchers. His published reviews on different priority issues were of immense help to the freshman.
Dr Ahmed was on the Editorial Board of a number of scientific journals and was Editor-in-Chief of the Journal of the Bangladesh College of Physicians and Surgeons for three consecutive terms. He was also the Editor-in-Chief of the Journal of Medical Science and Research and a member of the international advisory board of the International Journal of Addiction Sciences. Besides his professional work, Dr Ahmed regularly contributed a column in national daily newspapers on different social issues.
With the recent death of Dr Ahmed, the world of psychiatry has lost one of its distinguished figures. He was outstanding in his field in Bangladesh and enjoyed a very high stature among his peers. Honesty and integrity were the hallmarks of his character and those who knew him, knew that he never compromised with his ideology. He firmly adhered to medical ethics and pushed for high professional standards in his training programmes and clinical practice. Yet he had a great sense of humour and was always very kinds, gentle and caring to all those who came across him. These qualities set him apart as an exemplary icon who was highly inspirational and commanded great reverence, love and admiration from his students, trainees, colleagues and above all his patients. May the Almighty grant him eternal peace and a place in Heaven.