Designatory Letters:
MB Kolkata 1957, MRCP Edin(Neuro) 1965, DPM Lond 1067, MRCPych 1971, FRCP Edin 1994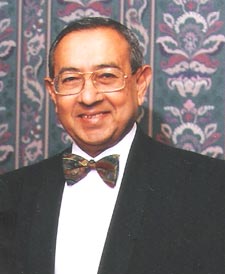 (Contributed by his wife Barbara)
Dr. Sambhu Nath Bhattacharyya was born in Calcutta, India of the 'Brahmin' family. His father was a professor of philosophy. It was here that he qualified as a doctor in 1957. After spending time in the Indian army as a medical officer, he came to England in 1959. He eventually settled in the Greater Manchester area. Here he took the position of Registrar in Psychiatry at Ashton General for two years and at Withington Hospital for two years. He gained the role of Senior Registrar in Psychiatry at Oldham and District General Hospital for another two years before accepting the post of Consultant Psychiatrist at Stepping Hill Hospital, Stockport.
Colleagues have remarked at Sambhu's invaluable contribution to the Stepping Hill Psychiatry department. He was commended as someone who would always go the extra mile to ensure that his colleagues were fully supported and patients were properly cared for.
He remained in this position until his retirement in 1987. When he went back to the hospital as a patient some twenty years later, his family were proud and humbled to discover that he was revered as the 'highly respected' doctor to whom the nurses paid special attention.
Sambhu's devotion to his profession is illustrated by the amount of time he committed to non-clinical appointments. He twice chaired the Psychiatric Division, was a member of the Medical Advisory Committee, the Local Medical Committee, the Psychiatric Commissioning Team, the Psycho-Geriatric Health Care Planning Team, and was an Advisor to the Drug and Alcohol Abuse Prevention and Treatment Committee, to name but a few.
Sambhu was a devoted family man. During his retirement he travelled and spent quality, treasured time with his wife Barbara, their son Robin, his step-children and grandchildren. He died at home in Greater Manchester on 23rd June 2009 after a long illness, surrounded by his loving family.