Designatory Letters:
MRCS Eng, LRCP London 1948, MB Lond 1948, DA Eng 1950, MRCP Edin 1954, FFA, RCS 1954, FRCP Edin 1969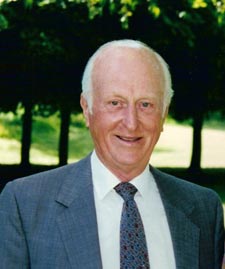 (Contributed by Justin Vale)
Raymond Vale was born in Cardiff in 1925, the son of a Methodist Minister. He was always determined to do medicine, qualifying from Guy's Hospital Medical School in 1948.
After his house officer posts he spent two years in Singapore doing his National Service as an Army Major Medical Specialist. He returned to Guy's as an anaesthetic registrar and joined the staff of Guy's Hospital in 1959. Shortly after he was also appointed as a consultant to the Chelsea Hospital for Women. His great interests were cardiac and paediatric anaesthesia and he worked with Lord Brock and then Donald Ross in the pioneering days of open heart surgery. He published many papers on temperature homeostasis during anaesthesia and developed a mattress to maintain body temperature during prolonged anaesthesia, not dissimilar to the warming mats used in many theatres today.
He was a Fellowship Examiner for the Royal College of Anaesthetists for several years and an excellent teacher, inspiring many junior doctors to follow careers in anaesthetics.
On his retirement in 1986 he moved to North Devon where he continued to work as a locum consultant anaesthetist at the North Devon District Hospital until he was 70. He furthered his lifelong interest in the piano by attaining his Grade VIII and subsequently a Diploma of the Royal College of Music.
He was happily married to Joyce for 52 years. A devoted family man and immensely proud of his three children, Simon, Justin and Felicity and nine grandchildren, he is very much missed by all whose lives he touched.