Designatory Letters:
MRCS Eng, LRCP Lond 1942, MB Lond 1943, MRCP Edin 1985, FRCP Edin 1988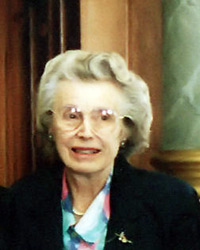 Mary Bunney was a remarkable lady doctor who, following graduation, served as a medical officer in the RAMC for two years, and in 1946 moved to Edinburgh with her husband Herrick Bunney. In 1958, the common wart was threatening to overwhelm the out-patient dermatology service. Mary Bunney was recruited by the late Dr Grant Peterkin to do two sessions as a clinical assistant when he started the Wart Clinic in 1958. Initially there were three types of wart, hand warts, plantar warts and genital warts. In 1965 Dr Bunney left General Practice and became an Associate Specialist in the Department of Dermatology where there was considerable interest in the HPV virus. She conducted several key clinical trials as well as writing a textbook on viral warts.
She pioneered screening of renal allograft recipients for skin disease including malignancies and was involved in collaborative research on the role of HPV in the aetiology of skin cancers. She continued to publish scientific papers until her retirement in 1986. She gained national and international recognition as clinician and researcher and was elected to the Fellowship of the Royal College of Physicians of Edinburgh in recognition of her achievements in 1988.
Her husband, former Master of the Music at St Giles Cathedral, Herrick Bunney CVO died in 1997.