Specialty:
Rheumatology and rehabilitation Medicine
Designatory Letters:
MB BS Lond 1954, MD Lond 1961, FRSM 1960, MRCP Edin 1965, FRCP Edin 1974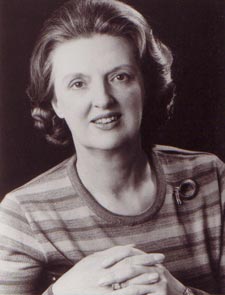 (Contributed by Dr Allan D Thomson)
Mary Carter was born in Southampton the lst. March 1926. On leaving school, she trained for her first career in theatre and costume design, showing considerable flair and artistic talent However, looking for a more secure career, Mary entered St. Mary's Hospital Medical School in 1948 on a woman's entrance scholarship which was a notable achievement at that time.
Mary qualified in 1954 and subsequently held a number of jobs as House Physician, House Surgeon and Registrar in London before specialising in Rheumatology and Rehabilitation Medicine. She was the first woman medical consultant to be appointed at St. Mary's where she founded the Department of Rheumatology and Rehabilitation. She obtained her MD in 1961 and was elected FRCP Edin, later becoming a member of the College Council. From 1982-1999 she was the College Regional Advisor for Greater London and North-West Thames; during this time she presented scientific papers at medical conferences worldwide and organised with great enthusiasm the Annual Reunions of Edinburgh Fellows in London
Throughout her life, Mary showed determination, courage, fortitude and resolution. She was good at getting things done and was a valuable member of many organisations, having a clear mind, decisive nature and a personality full of purpose and character. From 1974-94 she was President of Paddingon Branch Arthritis Care and Chairman of Disability Action Westminster from 1985-2003. She was also or member of the Executive Committee of Greater London Association of Disabled People from 1986-91 and was involved in many other charitable organisations.
Throughout her career Mary was engaged in important research projects and was author of various chapters and numerous scientific articles as well as founder Chief Editor of Excerpta medica: Rheumatology Abstracts.
On retirement from the NHS, Mary was appointed Senior Research Fellow in Clinical Rheumatology in the Department of Biological and Medical Systems at Imperial College, London, and Honorary Consultant Physician at St. Mary's Hospital.
After a friendship of 40 years, Mary married Brian Neville in 2000 in Romsey Abbey. They continued to live between London and the New Forest, sharing many happy holidays together in France and the Scilly Islands, and Mary retained her deep interest in opera, fine art, theatre and costume design.
Her life and her passing was characterised by courage and fortitude Those of us who knew her will always remember her kindness, her commitment to helping others, her sense of fair play and she will be greatly missed by her family, friends and colleagues.