Specialty:
Paediatrics/Community Child Health
Designatory Letters:
MB Edin 1942, MRCP Edin 1948, FRCP Edin 1965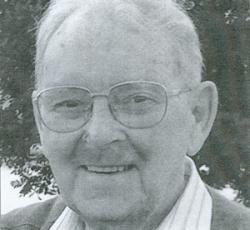 Mark was born in Dumfries in the closing months of the First World War, brought up in Carlisle where his father was The TB Sanatorium doctor, and had his secondary education on the Isle of Man before going to Edinburgh to read Medicine. Not only was he first junior president of the Students' Representative Council but it was there he met the lady who would be his wife for 67 years – Alena.
Joining the RAF he served mainly in England until 1945 when he was posted to Burma preparing men to work behind enemy lines, teaching them survival skills and earning himself the name "Snaky Doc" through his skill in catching snakes and teaching the men how to recognise them, and at the same time building up his own collection.
Demob. in 1946 saw him enter training in the relatively new specialty of Paediatrics, working in Aberdeen and Edinburgh's Royal Hospital for Sick Children and the Royal Infirmary of Edinburgh before being appointed first consultant paediatrician in Fife, working in Kirkcaldy and clinics throughout the county. He was an honorary senior lecturer in child health at Edinburgh University and St Andrews University where he taught biochemistry. He was a Fellow of the Royal College of Physicians of Edinburgh as well as a member of the British Paediatric Association, the Scottish Society of Physicians and the Scottish Paediatric Society.
He spend a year in Baroda Medical College in Gujarat, India as a visiting professor in the mid 1960s but will mainly be remembered for the many pioneering things he did, such as promoting resuscitation of the newborn when previously they might have been left in the cot to see whether or not they died; for insisting that paediatricians be permitted to work in maternity wards (obvious as that is to us today), inventing a device to clear the airways of new-borns and, last but not least, was instrumental in the introduction of " Keep out of reach of children" labelling of toxic substances.
A quiet modest gentle man, he achieved what he wanted and knew was best for his patients by gentle persuasion, by intervening in disputes and discussions only when he thought it essential to do so, leaving no-one in any doubt of his ability, his knowledge and his absolute commitment to the highest standards of paediatric care.
He leaves Alena, sons Neil, Alan and David and his grandchildren and countless ex-patients who might not be here today if it was not for his consummate skills and compassion.