Designatory Letters:
MB NUI 1951, DPM Lond 1956, MRCP Edin 1960 Psych, FRCP Edin 1973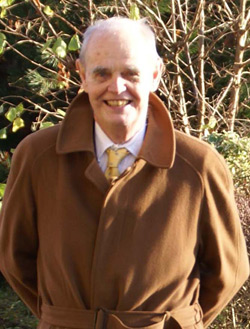 (Contributed by Bruce Ritson)
Spencer was born in Liverpool on St Andrews Day in 1928, graduated MB, BCh, BAO in 1951. He was appointed as consultant psychiatrist in the Mersey region in 1960 and was responsible for founding a regional alcohol and drug dependency service, one of the first of its kind in the UK. He was Chairman of the Merseyside, Lancashire & Cheshire Council on Alcoholism. He helped to found the Medical Council on Alcohol and was for many years deputy editor of its journal Alcohol & Alcoholism. He was also section editor of the journal Current Opinion in Psychiatry (1988-1993) and wrote an influential book: Guide to Alcohol & Drug Dependence (1979). He was the first recipient of the Max Glatt Memorial Medal.
He was a foundation fellow of the Royal College of Psychiatrists and chairman of its Substance Misuse Section, a member of Council and a member of the Public Policy Committee. He was awarded the fellowship of the Royal College of Physicians of Edinburgh in 1973. I remember his coming to Edinburgh for the award ceremony and the honour and pleasure it gave him. He was always very interested in the history of the College and its members. He was an avid reader of history. Travelling with him was a joy because he brought alive the historic associations of our surroundings with enthralling anecdotes. Literature was a lifelong passion; he went to school at St. Mary's College in Crosby where he excelled in sport as well as study and he was originally accepted, aged 16, to go to Downing College Cambridge to read English but was persuaded to follow his father's profession and train in dentistry. However, during his pre-clinical years in Liverpool he realised that he would much rather study medicine and he then moved to Galway to complete his medical studies.
After graduation he completed house jobs in Liverpool and then National Service before returning to enter into psychiatry. In his early days at Rainhill Hospital he was a leading advocate of opening all wards, which at that time was a challenge. He moved as a Consultant to Chester in 1960 and was involved in the opening of a day hospital there but also opened the 'alcoholic' unit which like many other alcohol treatment units at that time was in an inpatient unit but quite quickly moved to take out-patients and day-patients. In subsequent years he oversaw the growth of community services for individuals with alcohol and drug problems.
He was a keen walker, regularly climbing in Snowdonia always enthusiastic about sports and a good golfer living in a house overlooking the course. He was a respected member of the Chester Rowing community and has an eight named after him. His last major event was in 2003 as cox in the Boston rowing marathon of 31 miles when he kept the crew engaged with a stream of stories from his psychiatric career. He was fortunate in enjoying a very supportive family. He married in 1960 to Patricia Doyle who died in 2005. He is survived by their son, Paul and daughter, Clare. He had moved to live near her in the final year of his life.