Specialty:
Respiratory/Thoracic Medicine
Designatory Letters:
MB Ncle 1940, MD Durham 1956, MRCP Edin 1966, DTM&H, FRCP Edin 1972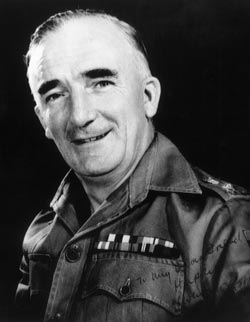 (Contributed by Professor Kevin Webb)
John Webb, always known as Jack, was born in Carlisle on the 5th February 1917.He was the youngest of 10 children. He studied medicine at Durham University. After house jobs, he was attached to the 8th Battalion of the Duke of Wellingtons Regiment, as the Regimental Medical Officer. He saw active service in North Africa and Italy. It was during this period that he was awarded his MC for rescuing wounded soldiers from a burning tank whilst under fire.
After the war (1945-1946), he was posted as the Lt Col i/c of the British Military Hospital in Rome. A devout Roman Catholic, he came to know Monsignor Hugh O'Flaherty (a famous priest known as the Scarlet Pimpernel, who hid and protected allied service men and Jews during the German occupation). His eldest son, Kevin, was christened in The Sistine Chapel.
Posted to Hong Kong. He researched tropical sprue. He described in a series of papers its onset and findings as well as its successful treatment; for this work he was awarded an MD in 1956.
Subsequently, he served as the Senior Physician at the Cambridge Military Hospital in Aldershot (1968-1974.) With this posting went the job of caring for the Field Marshall Montgomery of El Alamein, who he would visit weekly. On one memorable occasions Montgomery demanded of the doctor he cure his constipation!
He retired from the army in 1974, taking up a post as a Geriatrician at Guildford Hospital, where he built a highly effective unit.
In 1995 he underwent emergency open heart surgery to repair an acute dissesction of the thoracic aorta. He initially refused surgery but changed his mind when told he would not see sunrise or children again
He made a remarkable recovery, and continued to play golf and fish into his 88th year. He died after a long illness, on. April 5th. He is survived by his wife of 62 years, Mary, a Queen Alexandra's nurse and two sons and a daughter, all in the medical profession. Also 9 grand children and three great grandchildren.