Specialty:
Paediatrics/Community Child Health
Designatory Letters:
MB Q'land 1951, MRCP Edinb 1966, FRACP 1974, FRCP Edin 1990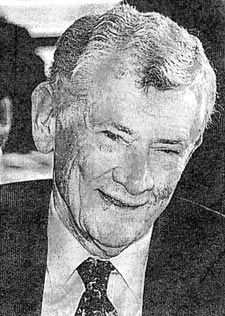 There are many achievements that different people will associate with this paediatrician, two of them medical breakthroughs.
In 1984 he proved that the deaths of four premature babies in Brisbane were caused by a divided single donor blood transfusion containing the HIV virus.
This eventually led to routine screening of all donations. Later in his career, whilst working in Rockhampton, he diagnosed a young Aboriginal boy as having amoebic meningitis and effected the first recorded cure of that condition.
He was dux of his school in Brisbane and qualified in medicine in the University of Queensland with first class honours. Between 1951 and 1961 he worked in different places in Queensland, carried out health surveys of the Aborigines, and was busy in private practice until he worked for six weeks in the Royal Children's Hospital, Brisbane, That persuaded him that his future lay in paediatrics. In 1964 he came to Edinburgh eventually being appointed a registrar to Professor John Forfar. In spite of being offered another posting he retuned to private paediatric practice in Rockhampton in 1968 and was for 10 years the only consultant paediatrician in Queensland outside of Brisbane.
He became a trustee of the Sir Albert Sakzweski Foundation, setting up a virus research laboratory with particular reference to viruses affecting children. Today it employs more than 60 scientists.
His interest in horse-racing led to him being president of the Rockhampton Jockey Club for 10 years, a member of the Queensland Turf Club from 1955, and a member of Queensland's first TAB board serving on it from 1962 to 1991. His other hobbies included history, classical music, opera and art. He leaves behind his wife Rita and children John and Julie.