Designatory Letters:
MB Aberd 1957, MRCP Edin 1965, FRCP Edin 1974, FRCPath 1981, FRCPS Glasg 1994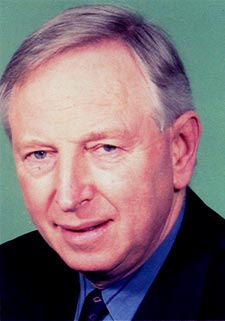 (Contributed by Professor David Lawson)
John Forsyth Davidson, an Aberdonian born and bred, was educated in Robert Gordon's College and Aberdeen University from where he graduated MB ChB in 1957. After house posts in Aberdeen Royal Infirmary he served three years as Surgeon Lieutenant in the Royal Navy – one of them spent on the aircraft carrier H.M.S. Albion – before returning to Aberdeen and gaining Membership of the Royal College of Physicians of Edinburgh. In 1965 he was appointed to the post of Medical Research Council Research Registrar in the University Department of Medicine at Glasgow Royal Infirmary working with Prof A Stuart Douglas in the field of coagulation. It was then a natural transition to his appointment as Senior Registrar in the Department of Haematology at Glasgow Royal Infirmary (Dr G A MacDonald) – an institution which he served for the rest of his professional career, retiring from it as head of the Department of Haematology.
John was a distinguished administrator, teacher and researcher but first and foremost he was, and remained throughout his career, a clinician, always attentive to his patients' needs and desires. He maintained a close relationship with one of the general medical units at the Infirmary throughout his tenure in post, teaching and inspiring generations of students in general medicine as well as in his own specialist area of haematology.
John was a prolific author of scientific papers - in all over 180 during his career - mainly focused on the area of fibrinolysis and coagulation. He was recognised nationally and internationally for his contributions in these fields, being elected as Secretary and subsequently President of the British Society for Haematology, and co-editor in Chief and Chairman of the Editorial Board of the International Society for Fibrinolysis and Thrombosis. During this time he established several international collaborative research ventures and enjoyed a particularly close professional relationship with Dr Jean-Maurice Laverne in Paris.
John always encouraged and stimulated his juniors to prosecute research. He had the happy knack of encouraging people to produce good research work and was also much in demand for his administrative skills. Early in his career he became one of the first Collegiate Members of the Royal College of Physicians of Edinburgh to serve on the Council of the College in his capacity of elected chairman of the newly formed Collegiate Members Committee. His success in this role led on to many other challenging assignments in committees over the years. He was appointed Secretary of the Joint Committee in Haematology of the Royal College of Pathologists and the Royal College of Physicians, and chaired many joint working groups in quality assurance in haematology for the Department of Health in the UK.
John was a strong advocate of the need for individuals to make significant contributions to the greater needs of the institutions in which they serve. In this regard he led by example and served in many different capacities both in the Royal Colleges of Physicians and Pathologists, Glasgow Royal Infirmary and the University of Glasgow.
Retirement was not a quiet time for John. He was an enthusiastic gardener and an expert on delphiniums – so much so that his friends often returned from his immaculately kept garden to their own little collections of plants heartily discouraged albeit uplifted at what could be achieved in the less than ideal climate of the west of Scotland by those more skilled in the green art of gardening than themselves.
John was a family man being closely involved in encouraging the careers of his son Graeme and his daughter Fiona whose hillside garden he designed and established, a feat which he achieved with his customary skill, application and quiet competence.
In his retirement he devoted a considerable amount of time to New Kilpatrick Church in his capacity as elder and archivist.
Many young doctors have reason to thank John for his encouragement and subsequent advance in their careers opening their minds to the possibilities of a career in haematology and/or clinical medicine. With his passing we have lost an accomplished clinician, a delightful colleague always willing to step in to help when needed at short notice. He was a generous host, and a wonderful raconteur; always kind towards others and never critical, being ever ready to give valuable advice if asked.
He is survived by Laura, his wife of 49 years, his son, daughter and four grandchildren to whom he was devoted and to all of whom our sympathy is extended.