Designatory Letters:
BSc Glasg 1937, MB Glasg 1940, DMRD Eng 1946, MRCP Edin 1967, FRCP Edin 1970, FRCR 1975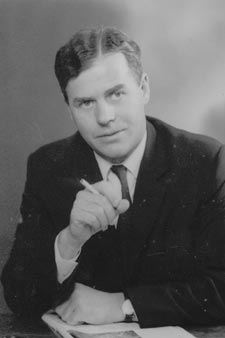 (Contributed by Dr Hugh Saxton)
John Dow, one of the pioneers of vascular and cardiac radiology in Britain in the mid twentieth Century, died on November 1st 2007. His whole career showed the drive and determination which led him into medicine and which underlay his wartime decoration.
Born in Glasgow he had a happy early childhood but his father died when he was 7. His mother ran a dairy and bakery to support the family and he was able to go to Hutcheson's Grammar School. He wanted to go into medicine but his mother thought a career in banking would be safer. Under her pressure he sat the banking exam, putting his name at the head of the paper and writing nothing more.
Qualifying in medicine at the start of the Second World War, he volunteered for military service and went to North Africa. In April 1943 the Army were attacking Guiriat El Atach. His CO and others were lying wounded in a minefield so he entered it in the dark to give first aid. Over the next 24 hours he repeatedly went forward under heavy mortar and machine gun fire to treat and evacuate badly wounded men. Several of his stretcher bearers were killed but many casualties were saved. He was recommended for an immediate MC. He later served in Italy and India, returning to Glasgow at the end of the War.
He then trained in radiology and gained an MD for his thesis on lower limb phlebography. In 1953 he was appointed consultant to Guy's Hospital. Sir Russell Brock (later Lord Brock) was developing his work on congenital heart disease and John built up a service in diagnostic angiocardiography to meet the needs of these patients. At the same time he worked widely in the general vascular field, undertaking early attempts at vascular recanalisation which predated balloon angioplasty. He also undertook the first selective coronary arteriograms in the UK in 1965. All this led to the Guy's department becoming one of the premier centres of cardio-vascular expertise He wrote numerous papers and chapters on these topics, contributing several chapters to Sutton's Textbook of Radiology. In the late 1960s he was much involved in the planning of the new imaging department at Guy's and became its director in 1974. He retired in 1979 but continued to work in private practice.
In 1942 he married Catherine Robertson and they had a son, who is a barrister, and two daughters who both became doctors. A keen fisherman, he also enjoyed tennis, skiing, skating and canoeing and led his children and grandchildren into these activities. In 1994 Catherine died suddenly. Two years later he married Lorraine Sykes, his senior radiographer and a family friend. She and his children survive him.
Dr Dow was born in 1916 but we do not know his date of birth.