Specialty:
General Internal Medicine
Designatory Letters:
MB Edin 1937, MD Edin 1946, FRCP Edin 1943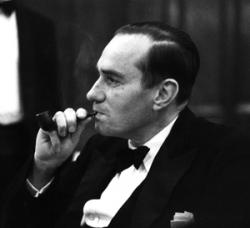 (Contributed by Dr A Toft)
James Innes, who spent most of his medical career in the Royal Infirmary of Edinburgh, was an outstanding physician and haematologist but above all was a gifted clinical teacher who inspired generations of undergraduate and postgraduate students. It was no accident that the University was more than happy to allow him to continue teaching at the bedside and in the Pathology department until he was an octogenarian. He was at ease with patients from all walks of life, readily engaging them in conversation while using his uncanny ability to extract hitherto undiscovered aspects of their histories and to notice subtle clinical signs missed by his colleagues and, as a result, the correct diagnosis was invariably reached.
James Innes was brought up in Haslar Naval Hospital where his father was a pharmacist. He attended school in Portsmouth and hence his affectionate sobriquet of "Pompey". The family moved to Edinburgh in 1930 and, although the young Innes had precociously obtained the requisite exam results to study medicine, he had to spend a year at the Royal High School before entering Edinburgh University Medical School in 1931.After graduating in 1937 he was successively house physician to the professor of medicine, William Ritchie, and clinical tutor with Stanley (later Sir Stanley) Davidson. Inevitably, his career was interrupted by the War in which he served in North Africa, Sicily and mainland Italy, not only finding the time to undertake research in malaria but also to develop a passion for opera. Having attained the rank of major his early discharge was sought in order that he might set up with Melville Arnott the Edinburgh Postgraduate Board for Medicine which was to provide refresher courses for demobilised doctors. There then followed a year as a Commonwealth Fund Fellow in St Louis with Professor Carl Moore, studying the effects of folic acid antagonists in the treatment of leukaemia, before returning to a consultant physician post in the Royal Infirmary as part of the new National Health Service in 1948. It was during his time as clinical tutor that he met Elizabeth (Elma) Hislop, the apocryphal recollection being that their continued engagement was conditional on her passing the Membership examination which she did, and they were married in 1946.
James Innes was undoubtedly the most intellectually able of the consultant staff, a polymath, but was too understated to flaunt his advantage, and too interested in other people, particularly his younger colleagues. An abiding memory was his stock reply to 'How are you?' being 'All the better for seeing you' which was a genuine sentiment. He would use his acerbic wit, however, with devastating effect in dealing with pomposity or disputaceous colleagues when Chairman of the Physicians' Committee. But his humour was usually gentle and he could easily have given Bob Hope a run for his money. As an examiner in the Membership examination of the Royal Colleges of Physicians he was often paired with the outwardly fearsome Donald Batty whose reputation for failing aspiring candidates had spread far to the east of Suez. Given his high standards, it is almost certain that, despite his charm, candidates who faltered should have been more afraid of Innes. He was an effective member of Council of the College between 1974 and 1979 and derived enormous pleasure from his role as medical secretary of the Harveian Society, one of the oldest medical dining clubs in the world, founded by Andrew Duncan. Those attending the annual Festival on the first Friday in June came from far and wide to be entertained by Innes' hilarious delivery of the minutes of the previous meeting which bore little resemblance to fact. For many years he was Consultant in Administrative Charge or 'Chief' of wards 32 and 33 of the Royal Infirmary, sharing beds with distinguished colleagues such as the late John Matthews, Leslie Duncan and Ronnie Robertson, and more recently Hugh Miller and Alistair Parker. He served as a trustee on the Melville Trust, a charity involved in supporting cancer research, and acted as Chief Medical Officer for the Guardian Royal Exchange life assurance company.
James Innes' childhood memories of watching the great liners, such as the Titanic's sister ship RMS Olympic, set sail for America greatly influenced family holidays and he was never happier than when planning them surrounded by boat, train and bus timetables. He was an accomplished and knowledgeable gardener who introduced many to the delights of the early –flowering bright red rhododendron 'Nobleanum' which, if not frosted, would light up a corner of any garden in January.
He is survived by his wife, Elma, a distinguished former paediatric haematologist at the Royal Hospital for Sick Children in Edinburgh, three children, all of whom studied medicine in Edinburgh, and eight grandchildren. For all the children of medical parents to enter the same profession is surely a reflection of how much both James and Elma gave to medicine and in turn how much joy and satisfaction were derived from their many grateful patients and students.