Specialty:
General Internal Medicine with a special interest in Haematology
Designatory Letters:
MB Berlin 1930, MD Heidlb 1931, TQ 1934, MRCP Edin 1936, FRCP Edin 1964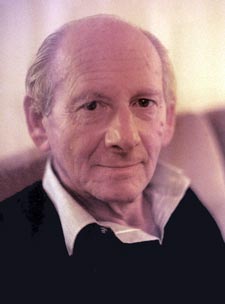 (Contributed by Dr Christine Evans MD FRCSEd )
Consultant Physician Merseyside Dr Heinz Fuld was born in Germany, his father a managing director of an asphalt factory later Director of a bank in Mannheim. He had 2 sisters.He was born of Jewish ancestry but was baptised in infancy.
He recognised three distinct phases of his life and the fate of his family. The first was happy and carefree childhood and training at medical school, when in the early thirties Nazi persecution tore his close knit family apart.
He studied medicine at the universities of Heidelberg and Freiberg, clinical studies in Vienna Munich and Berlin. He was awarded MD from Heidelberg in 1931 his thesis on "Agranulocytosis". He worked under many well known scientists including Hans Krebs, the Nobel laureate, who left for Cambridge early 1933 after the Reichstag went up in flames. He worked in Freiberg until he was dismissed from his position by Government, because of his non-Aryan origin.
The Nazis caused the death of 5 close relatives including his father and grandmother. He and his sisters had to leave Germany, his father would not leave his own mother who was frail and elderly.
The second phase of his life continued starting in Edinburgh in July 1933. With persistence and very little knowledge of English he managed to persuade Dr John Orr the Dean of the College of Medicine to let him enroll as a student. He passed his final LRCP&S exam in July 1934' he was awarded MRCP Edinburgh 1936. Both Edinburgh and Glasgow took the initiative to accept unrestricted number of refugee doctors with the opportunity to qualify in 12 months for which Heinz was truly grateful to Edinburgh. Coming from a political atmosphere of oppression, hate and violence he found a spirit of friendliness humanity and tolerance. Then he entered general practice in Liverpool. His father died at the end of 1938, for £2,000 he managed with great difficulty to get the release of his mother from Germany in April 1939.
During the war he was in the RAMC rose to become a major. His first wife and daughter Susan lived in the village of Llanarmon-Yn-Ial during the war. He entered Belson, as the first British doctor, on its liberation, this was to cause him a great deal of distress. He did describe how Yehudi Menuhin visited Belson 10 days after liberation and also the Old Vic theatre company to play Bernard Shaw's "Arms and the Man" before the Belson survivors. There were also groups of medical students from London and Sheffield who were a great help in these appalling circumstances. He was dismayed that the promises of Lord Moran that the serving medical officers would be found consultant places when they returned to civilian life, these were empty promises. He was demobbed in 1946 and was physician at Newsham General Hospital, then in 1948 Sefton General Hospital, South Liverpool.
He married a second time for a further 17 years and had a wonderful career in medicine both as a clinician and teacher, he was inspirational. He disliked unnecessary investigations and management and had a good academic mind the potential of which was not fully recognised.
He married a third time in 1972 to Pat, the Outpatient Sister and finally retiring from the NHS in 1974 continuing private practice until his 80s. He moved with his wife Pat and son Jonathan [born 1973] to the beautiful village of Llanarmon-Yn-Ial again and spent his last third phase of his life in great happiness and companionship with his new family in Fern Cottage with its beautiful garden.
He had a great skill in and love of mountaineering nurtured in Germany as a young man and also music and theatre which he could enjoy in Liverpool over the many years there. His daughter Susan became a consultant dermatologist in Liverpool, son Jonathan, recently, a chest physician in Cambridge. He is survived by his wife Pat, daughter Susan, stepdaughter Geraldine, son Jonathan, 4 grandchildren and 2 great grandchildren. I consider myself blessed to have known him for 27 years as a neighbour in the village, a friend who enjoyed his wisdom and his neatly written letters even to within 6 months of his death, when poor eyesight made it difficult for him to write. He was a great and compassionate doctor and man.