Specialty:
General Internal Medicine
Designatory Letters:
MB Durham 1966, MRCP Edin 1982, FRCP Lond 1982, FRCP Edin 1985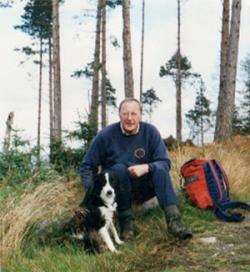 (Contributed by Roger Smith)
Gordon Terry was born in County Durham and educated at Spennymoor Grammar, whence came some of the greatest luminaries of Newcastle medicine. He was a graduate of Durham University and soon after went north to train in Kirkcaldy with Gordon Mackenzie at the CCU, at the Royal Edinburgh Infirmary under Desmond Julian, where he was bitten by the new concept of Coronary Care, and further honed as Registrar in Bangour and Aberdeen and finally Senior Registrar  in Newcastle and Durham where he was again influenced by Desmond Julian but also by the precise and demanding Hewan Dewar; and at Dryburn by the mellowing influence of wise Bob Mowbray. He was the first true cardiologist to be appointed to 'the periphery'. After a brief time as Consultant at South Shields he moved across to Dryburn, Durham where and from where he was to become a major player in the development of cardiology, particularly non-invasive cardiac investigation, outside the Newcastle centre. He was a founder of the Northern Cardiology Group which brought together the growing number of cardiologists and those interested in cardiology in the district general hospitals of the Northern Region, which ran frequent excellent meetings for a generation and whose stature attracted most distinguished speakers.
He was always grounded in general medicine and was Chairman of the Durham Branch of the British Diabetic Association. For a couple of years after retiring from Dryburn he filled a gap at Bishop Auckland General, in his home town, reveling in the atmosphere of a small hospital and yet again making a real difference.
But there was another side of Gordon. He was a keen mountain climber, often conquering the Scottish peaks with Mike Bone and Tony Martin; an oarsman to veteran level (and then a qualified umpire); he made telescopes and was interested in the industrial archaeology of County Durham.  While a medical student he met his wife Dorothy, a student nurse in the Royal Victoria Infirmary, and they had two sons and a daughter. He doted on his four grandchildren, and his dog.
Above all Gordon was a kindly physician, a good friend, his company was never dull. He died quite quickly after cancer was diagnosed. His funeral filled Durham Cathedral with a diverse congregation and he will be sorely missed but fondly remembered.