Designatory Letters:
MB NZ 1954, DA 1960, MRCP Edin 1962, FRCR 1966, DMRT 1966, FRACP 1978, Fellowship 1983, FRACR 1984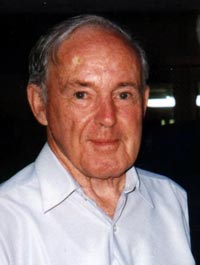 (Contributed by his wife in association with Dr John North )
Duncan (or Harry as known to his friends) was born in the small town of Putaruru, New Zealand. Coming from a farming background he attended Mt. Albert Grammar School, Auckland, Auckland University and Otago Medical School Dunedin. After graduation he worked mainly in General Practice before travelling to the UK as ship's doctor on a cargo boat.
He worked for a year as a registrar in Anaesthetics obtaining his diploma and then four years as Medical registrar at Oldham Hospital and CharingCross Hospital London, obtaining his Edinburgh membership and later fellowship before training in Oncology at CharingCross and The Royal Marsden Hospitals . He gained both his diploma and fellowship before returning to New Zealand in 1966, with his wife Brenda by the overland route, via the Middle East and India,in his trusty landrover.
He was appointed consultant Radiotherapist to Waikato Hospital, Hamilton and then in 1970 to Wakari Hospital, Dunedin.
For the next 22 years, frequently as the only Consultant in the Department, Duncan was the Director of Radiation Therapy Services for Otago and Southland. He was responsible for many innovations in that time, including the introduction of chemotherapy in the early 1970s, and the recruitment of new staff and the use of innovative treatment techniques. He always had a passion for teaching, frequently done in his own time, and whole generations of Radiation Therapists owe much to this passion. His clinical ability was always held in high regard by colleagues.
In 1990, Duncan's vision and efforts were responsible for the opening of a new department at the Dunedin Hospital site and his legacy remains in this modern facility that would not exist were it not for his foresight and energy.
Duncan continued to work until well past retirement age, initially in Dunedin until a suitable replacement could be recruited, and subsequently periods of time as a locum in Palmerston North and Wellington, finally retiring completely in 1997.
Duncan is survived by his wife Brenda, four children and five grandchildren.