Specialty:
General Internal Medicine, special interest Diabetes
Designatory Letters:
MB Edin 1976, FRCP Edin 1990, FRCP&S Glasg 1992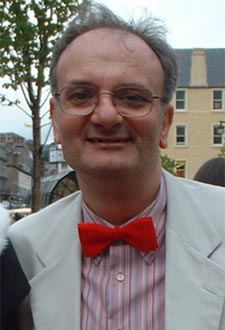 (Contributed by Dr Andrew Harrower)
Dave Matthews died suddenly of a pulmonary embolus whilst at work in Monklands Hospital, Airdrie on Thursday 11th December 2008.
Born in Dunfermline he attended Cowdenbeath High School where he was Head Boy. He then studied Medicine at Edinburgh where he met and eventually married his wife Allyson
David undertook his postgraduate training in and around Edinburgh, most notably at the Deaconess Hospital and Edinburgh Royal Infirmary. He worked with and deeply impressed his teachers and mentors such as RM Marquis, Leslie Duncan and Ronald Robertson, enjoying the ultimate accolade of being asked to be RR's personal physician. He was appointed as a Consultant Diabetologist and Endocrinologist to NHS Lanarkshire in 1987, initially based at Stonehouse Hospital and moving full time to Monklands Hospital in 1998.
Amongst his many clinical achievements he helped to found the Lanarkshire Diabetes Group of which he was the long standing secretary. With his interest in electronic patient records he had a major role in the development of the Lanarkshire Diabetes IT System which formed the basis of the national Scottish Diabetes IT System. He was a stalwart upholder of patient rights and participation and supported patient groups particularly in the specialty of Diabetes. He was the chairman of the Lanarkshire Area Drugs and Therapeutics Committee from its inception in 2003 where his balanced input and humour were invaluable.
As a clinician he was greatly loved by his patients and respected by his colleagues. His hopelessly inappropriate sense of humour was well known, endearing him to all. He served nationally on a number of committees, was a member of Council of the Royal College of Physicians of Edinburgh and an enthusiastic member of the Part 1 Board for the MRCP examination
During his years in Lanarkshire, he touched the lives of many of the junior doctors who rotated through Monklands Hospital. He relished both working and socialising with his trainees and they, in turn, considered him to be far more than just a senior colleague and supervisor. He instilled in his juniors an enthusiasm for hospital medicine in his own unique and spirited way. He was an endless source of amusing anecdotes and a day was never complete without a Dave Matthews's quip or risqué tale. Patients, staff and friends alike will all have a favourite joke or two from his endless repertoire. He hosted a barbeque for the trainees in his garden every summer, an event that always finished far later than intended. David's support continued long after his juniors "flew the nest" of Monklands Hospital, following their careers with interest. Always keen to hear the latest gossip, he was high on the list of people his old trainees would want to share their good news with; be it a new post, passing an exam or getting married and having babies. David remained in touch with many of his trainees, who will always consider him a true friend.
Outside medicine his energies were no less evident. He chaired the School boards of both Lanark Primary and Lanark Grammar and when asked why he replied "Because I was prepared to do the job", epitomising his attitude to involvement in all spheres of his life. He was a member of the Guildry of Lanark and a popular Secretary and President of Larkhall Rotary Club.
Dave had been diagnosed with multiple sclerosis some 10 years ago and for a few years latterly he used a wheelchair. This only seemed to increase his energy levels and he ensured that he continued with all his many activities. Allyson and Dave had several interesting and enjoyable holidays which provided him with a fund of amusing anecdotes - usually against himself.
Dave Matthews accepted the positive things in life with grace, energy, enthusiasm and humour and accepted the negatives in the same manner. Despite the undoubted frustrations caused by his MS, he was never once heard to complain. He will be deeply missed. However, his tremendous enthusiasm for clinical medicine, his dreadful sense of humour, his timely and wise counsel and his lasting friendship will remain forever in our memory. It is a tribute to this memory that over £3000 was given in a spontaneous collection for Diabetes UK and the MS society at his funeral. Dave is survived by his wife Allyson (a GP), sons Iain and Allan (both doctors), daughter Kirsty (a teacher like her paternal grandfather), both parents, his brother and his sister.