Designatory Letters:
MB Otago 1960, MRCP Edin (Cardiology) 1966, FACC 1970, FRCP Edin 1982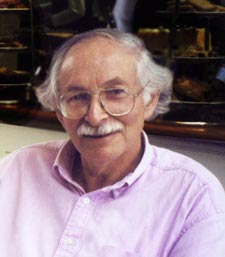 (Contributed by Dr Les. Oliver)
Bernard Treister was born in Wellington, New Zealand, in March 1937. He attended Otago University School of Medicine, before graduating M.B. Ch.B. from the University of New Zealand in 1960.
He did his internship at Wellington Public Hospital in 1961 - 62, and his residency in general medicine, paediatrics and cardiology in 1963 - 64. It was this period which ignited his interest in paediatric cardiology.
In 1965, he travelled to the U.K. to join the Cardiovascular Research Unit at the Royal Post Graduate Medical School in London, and the following year, extended his training in the Department of Cardiology at Stanford University School of Medicine. He became an instructor in medicine at Stanford University in 1969, and in 1970, was appointed cardiologist at the Royal Children's Hospital in Melbourne, Australia.
Bernard was made a Member of the Royal College of Physicians of Edinburgh in 1966, a Fellow of the American College of Cardiology in 1971, and a Fellow of the Royal College of Physicians of Edinburgh in 1982. He was a Fellow of the Royal Australian College of Physicians and a Fellow of the Cardiac Society of Australia and New Zealand.
His early training in paediatric cardiology evolved into great expertise in the area of adult congenital heart disease.
He was appointed Director of Cardiology at Austin Hospital, Melbourne, in 1973, and continued his association with Austin Hospital, as a sessional cardiologist, and a senior associate in medicine at the University of Melbourne, until his death..
His interests were eclectic, and he published extensively, in both paediatric and adult cardiology. He had deep empathy, great compassion, and genuine interest in his patients as people. He was an extraordinarily wise and astute clinician. His was the voice of reason and logic in medical meetings with his peers. He had great depth of knowledge in world affairs, and in particular in Sino Russian and Middle Eastern politics and culture. He was intrigued by the stock market, which he studied assiduously. He had great interest in movies, and was extremely well read. He was a renowned collector of pens, watches and antique medical instruments.
Bernard was, by nature, an engaging raconteur with a mischievous irreverence. He is survived by a wife and two children who loved him, and a large group of friends who admired and respected him, and now miss him greatly.
He lives on however in the memories of us all.