Specialty:
General internal Medicine
Designatory Letters:
MB Mysore 1960, MRCP Edin 1964, MRCP Lond 1967, FRCP Edin 1993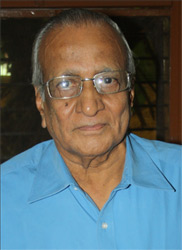 [Contributed by Professor K S Chandramouli, S t. John's Medical College Hospital]
It is a privilege to have been associated with Dr A N Balasundaram, first as one of his undergraduate students then later as a colleague in the Department of Medicine at St. John's Medical College, Bangalore, India.
To all his students he was ANB and popularly nicknamed "Syndrome" for his vast knowledge and remarkable ability to remember syndromes.
I shall always remember him as a teacher. His heart and soul lay in teaching. He would be teaching be it undergraduates or postgraduates, be it in the Out-Patient Department or in the In-patient wards. Not a single out-patient session or a ward round would go by without ANB teaching his students something.
You can never be a great teacher unless you are a student too, at heart .I have never been in his office without seeing him with a book open in front of him. His thirst for knowledge seemed unending.
The only thing that came close to his love of teaching was his love of cricket. Cricket was perhaps the only thing that drew him away from his books, at last for a while!
He was generous and humane. In his death we have lost a great teacher and a humane person.