Designatory Letters:
MD 1986, FRCPE 1986, FRCPG 1973, FRACP 1994, FACP 1997, FRCPI 2000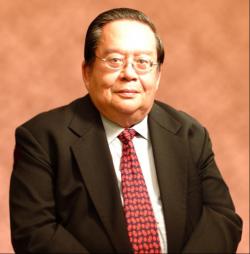 Professor Feng is regarded as the Father of Rheumatology in Singapore. In addition, he was instrumental in inaugurating the subspecialties of infectious disease and intensive care medicine in the country.
Professor Feng obtained his basic medical degree from the University of Malaya, Singapore division, in 1960. In 1964, he was awarded the Colombo Plan by the British government to specialize in internal medicine in UK; within six months, he passed the MRCP examination. He subsequently worked as a senior registrar for Professor Seah Cheng Siang in Toa Payoh Hospital, Singapore. The fact that Professor Seah was the first to report that cyclophosphamide was effective in the treatment of lupus nephritis (in 1966) probably had an influence in Professor Feng's subsequent career. In 1969, Professor Feng was awarded the WHO Research Fellowship to spend a year in Israel to train in nephrology. However, his interest in Rheumatology was already piqued and a meeting with Professor Frank Dudley Hart confirmed the direction that his life should take.
Professor Feng extended the Professor Seah's series and reported the 7-year outcome of 42 patients treated with cyclophosphamide, in 1973. He was also the first to warn about cyclophosphamide-induced ovarian failure in the previous year (male infertility was the bigger concern until then). Later, in 1981 and 1986, Professor Feng spent time in centres in the UK and USA to further his research in lupus and the rheumatic diseases through the Health Manpower Development Program organised by the Ministry of Health Singapore. He was awarded a Doctorate in Medicine by the National University of Singapore for his thesis 'Systemic Lupus Erythematosus in Singapore' in 1986.
In 1985, Professor Feng established the first Department of Rheumatology & Immunology in Singapore at the Tan Tock Seng Hospital (TTSH). In fact, he served in all the important clinical positions in TTSH. In 1989, while he was Chairman Medical Board at TTSH, Professor Feng laid the foundation for the new discipline of Infectious Diseases in Singapore. He set up the Society of Infectious Diseases (Singapore) in 1990. Similarly, he initiated Intensive Care Medicine in the hospital.
Professor Feng was a friend to a great number of rheumatologists around the world. He was synonymous with Singapore Rheumatology. He advanced the discipline through his leadership in the department, his training of generations of rheumatologists, and his prominence in national and international professional organizations. He organised the International League of Associations for Rheumatology (ILAR) Congress in Singapore in 1997, and the Ten Topics in Rheumatology (Asia) series from 2011 to 2013.
He enjoyed movies and loved to tell funny anecdotes. In his later years, he continued to keep abreast of developments in rheumatology and he remained passionate about the training of younger specialists in the discipline. He was well loved and respected and he is sadly missed by his colleagues and friends.
He is survived by his wife.  
Leong Khai Pang