Designatory Letters:
MB ChB Edin 1951, MRCP Lond 1956, MRCP Edin 1956, MD Edin 1964, FRCP Edin 1969, FRCP Lond 1971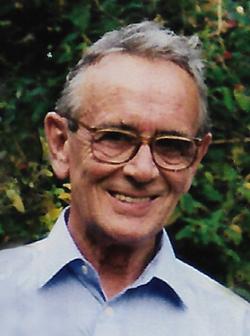 Bill Cattell was an esteemed clinician who created a Department of Nephrology at St Bartholomew's Hospital, London which became nationally and internationally recognised. He was one of the generation of pioneering doctors who shaped the treatment of kidney disease in the 1960s and 1970s. He was a tough-minded enthusiast who inspired his students, challenged his colleagues and relished every moment of his professional life.
He was born and brought up with 2 older brothers on a farm on the Moray Firth in North East Scotland. He was educated at Petty East Public School, Inverness Royal Academy and Edinburgh University where he studied medicine and graduated in 1951 with first class merits in 5 subjects. His first job at Raigmore Hospital in Inverness was followed by 2 years of National Service in the Suez Canal Zone in Egypt where he became, aged 24, a regimental medical officer and was then posted to a busy military hospital in charge of tuberculosis wards. 
When he returned to Scotland in 1954 he pursued his interest in chest medicine as house physician to Professors Stanley Davison and John Crofton at Edinburgh Royal Infirmary. He then moved to the Brompton Hospital in London where he met his first wife, Ann Beardwell, and subsequently to University College Hospital (UCH) where he thrived in the stimulating academic environment.
His interest in renal medicine, and in research, was sparked while working at UCH as registrar to Professor Max Rosenheim and Dr AG Spencer, both expert in renal medicine. Spencer moved to Barts Medical Unit and in 1959 Bill followed as lecturer to help set up a renal service. His work on animal research  led to the award of MD, and to a Rockefeller travelling fellowship in the Boston laboratory of Dr AS (Bud) Relman. He returned to Barts as senior lecturer in 1964 with the remit of setting up a regional dialysis service for patients with end-stage renal failure. A haemodialysis centre was opened at nearby St Leonard's Hospital in Shoreditch and Bill was appointed consultant to both hospitals. At that time demand for treatment far exceeded supply in the UK. One former colleague writes 'It was a time of excitement and tension with all the advances and consequent burden on staff and patients alike. In a seemingly effortless way Bill made every single member of staff feel included, and vital in their role. And when difficult life and death decisions had to be made he gave full weight to the emotions of his team. The respect, affection and gratitude they felt was palpable.'
In the following years a specialist department of nephrology was developed  dealing with all aspects of renal disease as well as dialysis and transplantation. An academic department of nephrology was established within Barts Medical College and attracted many young scientists and physicians preparing for higher degrees. Bill Cattell was an inspired teacher. One colleague writes 'What a central figure Bill was to all of us from student days on ward rounds at St Leonards to uroradiology conferences at Barts. He was incredibly influential, and a powerful and respected opinion.' 
Throughout his life clinical practice went in tandem with research and he encouraged younger staff, of all disciplines, to do likewise. One colleague writes "I learnt so much from him particularly in my early years of training. He was so challenging of dogma, always knew what question to ask and more importantly, how to set about answering it." He published over 120 peer-reviewed papers, chapters and books. His particular interests were in urinary tract infection (with Professor Francis O'Grady) and in renal radiology (with Dr Ian Kelsey Fry and Dr JAW Webb). 
Over the years Bill was Secretary of the Renal Association of the United Kingdom and Ireland, an elected council member of the European Dialysis and Transplantation Association, a member of both district and regional NHS authorities, and a governor of Barts Medical College. For 4 years he was senior physician at Barts and retired in 1991.
He enjoyed a long and productive retirement studying at various times music, drawing, stained glass, wood carving and, best of all, he enjoyed working in the dark room in the days before digital cameras. He was a devoted DIY practitioner. He had a fine memory and wrote about his childhood and his professional life. He divided his time between London and his beloved house in Norfolk where he was often joined by children and grandchildren. When he retired he vowed never to sit on another committee, ever, but in time was persuaded to become Secretary of the Retired Fellows of the Royal Society of Medicine, and was proud to be later appointed Honorary Librarian.
He is survived by his wife, Pat Gordon, whom he married in 1977 and his five children - Alex and Kate from his second marriage and Caroline, Sarah and Ross from his first - and ten grandchildren.