Designatory Letters:
QHP (Queens Honorary Physician) and CB (Companion of the Bath)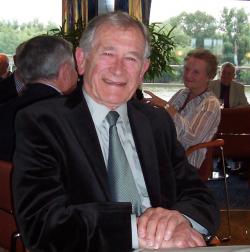 Trevor Richard Hampton rose to the top in Naval Medicine leaving the Navy on retirement in 1989 as a QHP (Queens Honorary Physician) and CB (Companion of the Bath). He was born in Kings Lynn and excelled at school, winning the King's Gold Medal for academic excellence – presented to him by King George VI in person. He graduated in medicine at Edinburgh in 1955 and started his naval career after doing his national service in the navy. After serving in various naval appointments including 18 months on HMS Victorious and training at Haslar Naval Hospital and Edinburgh, he was appointed as Consultant Physician at the Royal Navy Hospital Plymouth in 1970. During this time he rose in rank to finally, at the time of retirement, Surgeon Rear Admiral.
When Surgeon Captain he served in Plymouth and in Gibraltar. During the Falklands Conflict he was a key member of the team organising the medical evacuation including the 24 hour conversion of HMS Uganda to a hospital ship.
Admiral Hampton was popular and had many naval friends. After retirement in 1989 he maintained his theatrical pursuits and remained physically active. He died suddenly following a stroke in October 2012. He is survived by his wife and three daughters.