Designatory Letters:
MB Camb 1949, MA Camb 1950, DPM Durham 1956, MRCP Edin 1957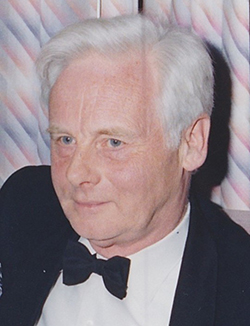 Alan Calvert Gibson a Consultant Psychiatrist at St Ann's Hospital, Poole and Herrison Hospital, Dorchester, died at the age of 92 from a stroke.
Alan obtained a scholarship to St Pauls School and decided to study medicine. On qualifying he was excused National Service on the grounds of pulmonary tuberculosis, which resolved without treatment. After 2 years of house jobs in medicine and neurology at St Mary's he became Medical Registrar at the Leicester Royal Infirmary. In 1954 he decided to go into psychiatry, regarding it as a branch of medicine about which virtually nothing was known; he had no time for psychoanalytic theory. He studied under Sir Martin Roth at Newcastle, where he stayed for 4 years. During this time it became clear that chlorpromazine dramatically alleviated the symptoms of schizophrenia, and a new era of psychiatry had been born. He then acquired psychiatric experience at Runwell Hospital to take his first Consultant Post at The West Cumberland Hospital at the age of 34. This was the first Psychiatric Unit in a District General Hospital and presented an early experiment in community psychiatry, although it was a challenge with only 16 beds to serve a catchment area of 150,000 people. However, with a dedicated team, it proved an outstanding success.
In 1963 Alan moved to St Ann's Hospital Poole to set up a new psychiatric service for Bournemouth, with long stay beds at Herrison Hospital, Dorchester. Here he inherited 400 chronic patients; when he left 18 years later only 43 remained, the rest (except for those who had died) being cared for in the community with the invaluable help of the community nursing service that he personally set up. This was one of the first, if not the first, of these schemes set up in the country. His interest in forensic psychiatry caused him to be made Independent Expert Witness for the Home Office, and he was appointed Honorary Lecturer to the University of Southampton.
In the mid seventies he became aware of the ever increasing number of patients showing symptoms of tardive dyskinesia and realised that this complication of antipsychotic treatment was not only untreatable but was not even recognised by many colleagues. He published a number of papers on the subject in his efforts to find some way of combating it, and was invited to speak at conferences worldwide. His conclusion that clozapine was the antipsychotic drug least likely to cause the condition could not be tested, as, at that time, the drug was considered too dangerous to be of therapeutic value. Now that it is widely used, he is shown to be right in his belief.
In 1981 he left the NHS to become Medical Director of Bowden House Clinic, Harrow on the Hill. This post lasted 3 years when he left to do locums and work once a week as Visiting Psychiatrist at Wormwood Scrubs. From 1989 he served on the Parole Board and became a member of the Mental Health Review Committee, visiting over 150 separate hospitals and clinics until he retired in 1999. At the age of 81 he had an article published on the relationship between allopurinol and diabetes. His hobbies were model engineering, sailing and motoring, and at the age of 86 he was driving a 5 litre Mercedes Coupe.
Alan believed that psychotherapy was basically a matter of empathy, and that mental illness was an indication of brain disease.
His wife died in 2011 after 60 years of marriage, and he leaves three children, seven grandchildren and four great grandchildren. He always expressed his view that he was lucky to have practised psychiatry in a golden age.