The club had its origins in 1822, in a contest for the position of physician at Edinburgh's New Town Dispensary. At that time individuals were selected for the position by public vote rather than appointed, and with a payment of 10 shillings to be made by every voter this must have benefitted the management of the dispensary significantly.
The winner of this particular contest, Dr Beilby, met with a group of doctors afterwards and they decided to form a social group, with the aim of being less stiff and more liberal in outlook than the other existing clubs.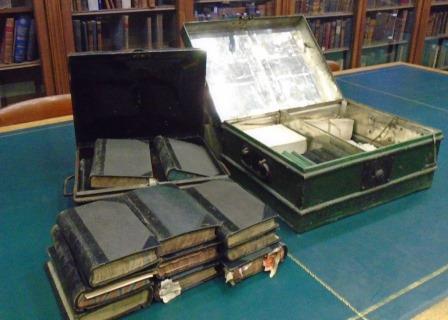 The collection consists primarily of a continuous run of minutes of the club, with some correspondence, papers and financial material.
The minutes themselves are reasonably unusual in that as well as detailing meetings, they also record conversations held at dinner, and discuss the quality of the food and wine provided. They thus provide an interesting insight into the discussions and concerns of prominent nineteenth century medical figures such as William Pulteney Alison, public health reformer and founder of the New Town Dispensary.
This collection was donated to the College by a Fellow, Dr Iain F. MacLaren. The archives reference number is DEP/MEC.
If you'd like to find out more, you can email us at library@rcpe.ac.uk
Follow our Twitter account @RCPEHeritage or our Facebook page or sign up to our newsletter to get notifications of new blog posts, events, videos and exhibitions.