As part of the cataloguing of our archive collections, and in commemoration of the centenary of the First World War,  the College has created an online searchable database of the Scottish Medical Service Emergency Committee.
The Committee was established on 12 August 1914 "for the purposes of assisting to meet the immediate difficulties in regard to medical practice among the civil population which have arisen" and was based within the College at 9 Queen Street, Edinburgh.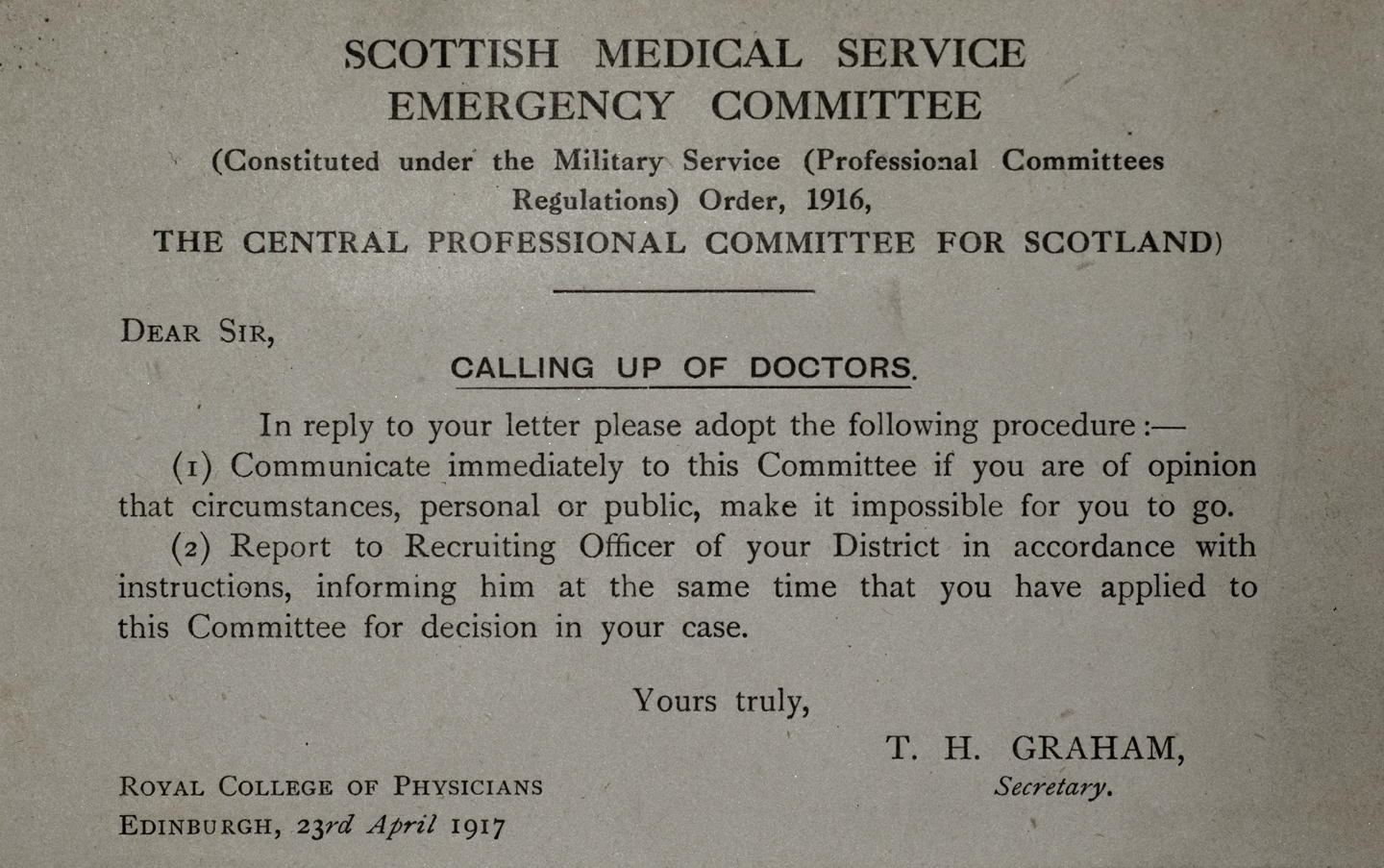 One immediate consequence of the outbreak of war was the withdrawal from civil practice of around 300 doctors who held commissions in the Royal Navy Reserve, Royal Army Medical Corps or combatant units.  To co-ordinate medical cover for the civilian population in Scotland, and to learn of doctors' intentions to enter active service, the Emergency Committee sent a registration and intimation form to every doctor in the country. Information was gathered including whether the doctor had already served in the Royal Army Medical Corps or was intending to serve. In time, 2349 Scottish medical practitioners served in the forces during the course of World War One.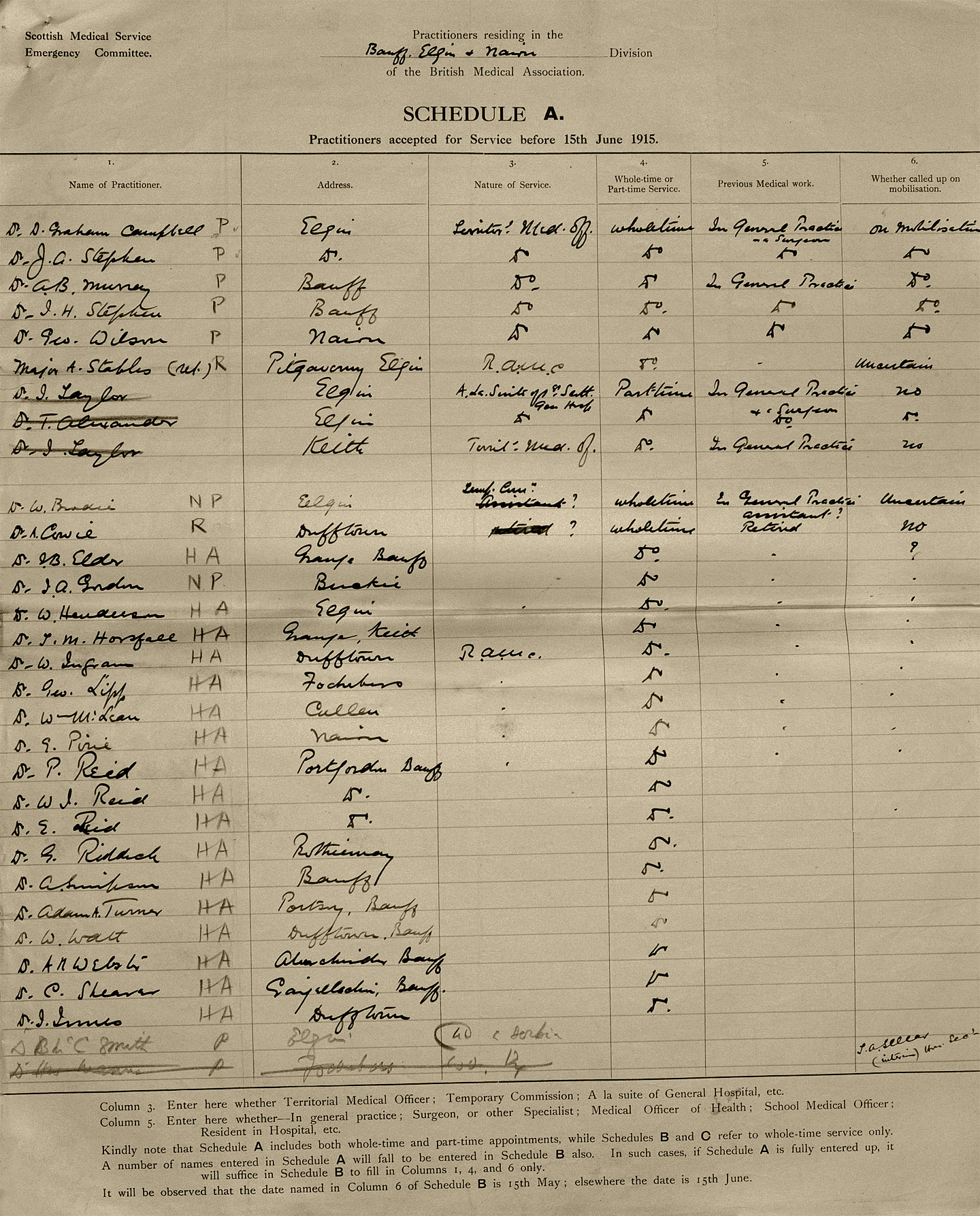 In addition, the Emergency Committee took on a tribunal role for appeals from doctors against compulsory military service following the introduction of the Military Service Act in 1916 which provided for compulsory military service for all single men between the ages of 18 and 40
The online database contains over 3000 records of Scottish doctors who registered to provide civilian cover, or were intending to enter active service, many of which make fascinating reading. These include:

•Dr William Gibson, from Campbelltown, Argyll (then aged 91) and Dr James Logie from Kirkwall, Orkney (then aged 95) who, despite their ages, offered to provide part-time civilian medical cover;
•Dr Marion Gilchrist, Buckingham Terrace, Glasgow, a GP who in 1894 had been the first woman to gain a medical degree in Scotland (from the newly-opened Medical School at Queen Margaret College, Glasgow). After the war she went on to become an ophthalmic surgeon at Redlands Hospital for Women;
•Dr Mary MacNicol, Leven, Fife, who volunteered to provide cover so as to enable her husband to undertake military duty; and
•Dr Alexander Fraser, Falkirk, a famous bagpipe collector, part of whose collection was donated to the Royal Scottish Museum in 1947.
Other entries highlighted the extreme pressures which Scottish doctors were under in providing civilian cover during the war i.e. "My partner (in my medical practice) died one month ago and I am carrying on his work, and my own work, and am also doing part work of two medical men who are on active service and also attending sick or wounded soldiers at home on furlough".
The Scottish Medical Service Emergency Committee database can be accessed online at http://smsec.rcpe.ac.uk/
If you'd like to find out more, you can email us at library@rcpe.ac.uk
Follow our Twitter account @RCPEHeritage or our Facebook page or sign up to our newsletter to get notifications of new blog posts, events, videos and exhibitions.