Designatory Letters:
MB Glas 1953, MD Glas 1965, FRCS Ed 1959, FRCS Eng 1966, Hon FS ACS 1989, Hon FACS 1991, FRCPS Glas 1993, FRCP Edin 1995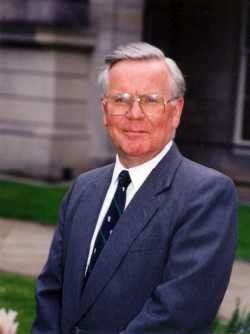 (Contributed by Mr Iain Macintyre)
Sir Robert Shields will be remembered as a surgical leader of unfailing charm and courtesy who was always willing to listen. These were skills which he used to great effect as chairman, administrator and surgical president. He was a distinguished member of that remarkable school of surgery founded in Glasgow by Sir Charles Illingworth which came to dominate academic surgery in Britain for a generation or more.
Born in Paisley and educated at Glasgow University, where he enjoyed a distinguished undergraduate career, Bob Shields had gifts which were recognised at an early stage by Illingworth. Schooled in the disciplines which were the hallmark of that formidable master he was to rise to the foremost rank of academic surgery in Britain.
After surgical training in Glasgow, national service with the Argyll and Sutherland Highlanders and research at the Mayo, he became senior lecturer then reader in Cardiff under Pat Forrest before taking up the chair of surgery at Liverpool University in 1969.
Here he encouraged and trained a succession of young academic surgeons and built an academic department of international repute. His own research interests were based in gastroenterology, and his department produced important work on the pathophysiology and surgical management of portal hypertension. He made his mark on the national stage as a member of the General Medical Council and of the Medical Research Council. By now his gifts of leadership and wise counsel were widely recognised and he was elected in succession to the presidency of the Surgical Research Society, the Association of Surgeons of Great Britain and Ireland, the British Society of Gastroenterology and the James IV Association of Surgeons. In 1990 he was appointed Knight Bachelor in the Queen's Birthday Honours list and was made deputy Lord Lieutenant of Merseyside the following year. His election, unopposed, as President of the Royal College of Surgeons of Edinburgh saw the fulfilment of a long-held ambition. During his presidency (1994-1997) the size and the influence of the College continued to grow as he promoted overseas activity and surgical education through distance learning. Here his mastery of every brief and his breadth of vision came into its own.
He was always immaculately turned out and retained throughout his life a meticulous attention to detail which characterised all his preparation and planning. Always ready with a disarming smile, and always ready to listen, he was a natural diplomat with a reputation for wisdom, honesty and integrity.