Designatory Letters:
MB Adelaide 1951, MRCP Lond 1955, MRCP Edin 1955, MRACP 1958, FRCP Lond 1976, FRCP Edin 1971, FRACP 1978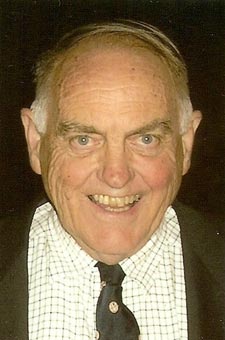 (Information contributed by the Rischbieth family)
The son of a UK-trained surgeon, Dick Rischbieth was born in North Adelaide where his father worked, before spending much of his life in Walkerville.
Educated at St. Peter's College he had a lifelong association with Scouting and camping and, with his friends, camped on Kangaroo Island, where they supplemented their rations with wallabies, possums and sharks. His interest in bird watching took him to Shetland to study the puffins and to the Alaskan Ice flows.
He graduated in medicine at Adelaide University in 1950, then pursued his studies in the Royal Adelaide Hospital, Western Australia and London Queens Square. He became MRCP London and MRCP Edinburgh, returning to Australia as a neurologist in 1958, and later serving in the Naval Reserve. He helped to establish the Neurology Unit in the new Queen Elizabeth Hospital, being head of unit 1961-1992. It is said that his juniors and countless students recall the notorious Thursday 6-hour teaching rounds known as "the lantern shift".
His deep religious faith was reflected in his life long involvement in St Andrews Church and Anglican School, the Anglican Synod, The Christian Medical Fellowship and through his service to the boards of Bedford Industries and the Memorial Hospital. He was on the Council of his old school or many years and attended his 30th speech day as an Old Scholar in December 2006. His great respect for country Australians led him to establish boarding and tuition scholarships at both St Peter's College and Wilderness School.
He was a keen bowler and hill walker, always keen to pack as much as possible into a day. He is known to have visited 10 London museums and art galleries in a day!
He had a very happy marriage and now leaves his wife Judy, sons Peter (a rural GP), Henry (a physiotherapist) and Hugh (a lawyer) and daughter Anne (also a physiotherapist) and eight grandchildren.