Specialty:
Respiratory/Thoracic Medicine
Designatory Letters:
MB Sheff 1953, MRCP Edin 1958, MD Sheff 1961, FRCP Edin 1971, FACP 1972, FRCPC 1978, Hon FFOM 1997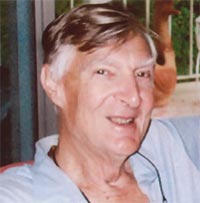 Keith Morgan died on 1st April 2007 in Ontario, Canada in his 77th year. The husband of the late Barbara Scott Morgan (2005); he is survived by his three children and their spouses– Gwyn and Jayne; Rick and Stephanie; Janet and Paul - and four grandchildren, Brenna, George, Garreth and Martha.
Dr. Morgan qualified as a doctor at the University of Sheffield, UK, in 1953. He emmigrated to the United States, as did so many UK graduates at that time in 1957, and moved to London Ontario in 1978. A world renowned specialist in Thoracic and Pulmonary Diseases, he authored and/or contributed to over 50 textbooks and more than 170 articles including his most famous though by no mans most important paper "The rape of the phallus " which successfully antagonised those surgeons who made a living from circumcision His positions included Chief of Staff, University Hospital, London, Ontario; Head of the Pulmonary Diseases Section, UWO; Director, Chest Disease Services UWO; Professor of Medicine and Chief, Pulmonary Diseases Section, West Virginia University, Morgantown WV; Director, Appalachian Laboratory for Occupational Respitory Diseases, WV; Chief, Medical Research Station, Appalachian Laboratory, Occupational Respitory Disease, U.S. Public Health Service. He served as The President of the Maryland Thoracic Society; Chairman of the Environmental Health Committee of the American College of Chest Physicians; Member of the Advisory Board for Occupational Health & Safety Resource Centre, UWO; Member of the Ontario Ministry of Labour Applied Research Awards Committee; President of the Canadian Thoracic Society; and as a board member of the Scientific and Policy Advisors, American Council on Science and Health, among others. He was an Emeritus Professor of Medicine at the University of Western Ontario.
With his passing ends an era; a fierce competitor and articulate campaigner for that which he knew to be the truth, he left in his wake many a sophist and self satisfied administrator strafed by wit and penmanship. Many a resident's lackadaisical use of the English language resulted in a verbal upbraiding that to this day resonates in their ear when they hear the word "basically".