Designatory Letters:
MB Lond 1955, MRCS Eng LRCP Lond1955, Hon DUniv Surrey 1996, FRCS Eng 1958, FRCS Edin1958, Hon FRACS 1985, Hon FCS Sri L 1992, FMAM 1992, Hon FRCPSGlasg 1993, Hon FRCSIrel 1993, Hon FHKCS 1993, FSAM 1993, Hon FCP Pak 1994, FRCP Lond 1996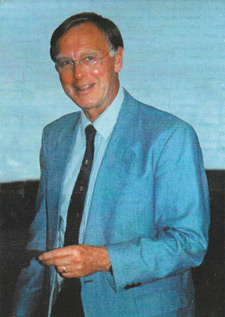 (Contributed by Iain macintyre)
Professor Patrick Stewart Boulter, a past president of the Royal College of Surgeons of Edinburgh died peacefully at Penrith on 30th Nov 2009. A warm, affable, sociable man, he proved an effective and popular ambassador, who during his presidency heightened the profile of the Edinburgh Surgical College around the world.
Paddy , as he was affectionately known to friends and colleagues, was proud of his Borders roots. Born in Annan, Dumfriesshire he was educated at Carlisle Grammar School , where the Cumbrian Fells introduced him to the joys of mountaineering, which became a lifelong allure. After national service with the King's Own Scottish Borderers his undergraduate career at Guy's Hospital Medical School was distinguished by graduation with honours in both Medicine and Surgery and the award of the University of London Gold Medal. As Consultant Surgeon to the Royal Surrey County Hospital in Guildford, he specialised in endocrine and breast surgery and was later appointed Honorary Professor in Surgical Science at the University of Surrey. His reputation as a teacher and researcher resulted in visiting professorships to surgical centres around the world.
From 1981 his Guildford unit published a series of pioneering studies on breast cancer screening. These and studies from Professor APM Forrest's Edinburgh unit were to pave the way for the subsequent introduction of the national screening programme for breast cancer in the UK.
He became known as an effective and popular trainer of young surgeons, many of whom became friends and all of whom enjoyed the gracious and generous hospitality which he and his wife Mary offered their many visitors from around the world.
His presidency of the Royal College of Surgeons of Edinburgh 1991-94 was characterised by his gently persuasive management of Council and a seemingly endless round of international surgical diplomacy where he was able to use his natural charm to great effect. The citation which he delivered on the occasion of Mother Theresa being awarded the honorary fellowship of the RCSEd was both gracious and moving – Paddy at his eloquent best.
He thrived on travel, on meeting people and many of his overseas visits produced new contacts and new overseas partners for his College. His remarkable collection of honorary Fellowships attested to the esteem in which he was held.
Always keen to show his Scottish roots he proudly kept his father's Scottish number plate on a series of cars. On overseas examining trips he would delight in leading the examiners in traditional Scottish songs on the journey back to the hotel, sometimes tunefully but always with gusto.
He and Mary, his constant soulmate and support were ideal partners. Their marriage was further bonded by a joint interest in skiing ( which they took up with enthusiasm in their 40s) and in mountaineering. Paddy was active in the Alpine Club and Swiss Alpine Club and wherever they travelled, they relished the challenge of new mountain peaks in Alps, Himalayas or Rockies. Another shared passion was angling which Paddy and Mary enjoyed together into retirement near Penrith, within sight of his beloved Cumbrian hills.
Paddy Boulter, a devoted family man, is survived by Mary, their two daughters, five grandchildren and five great grandchildren.