Designatory Letters:
MB Punjab 1956, MRCP Edin 1959, FRCP Edin 1972, FRCPS Glasg, FCPS Pak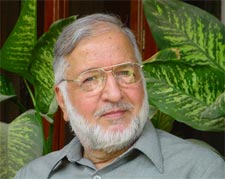 (Contributed by Dr Mohammed Abedi)
Professor Dr. Munawar Hayat was born in a small village in the Sialkot District of Punjab in British India (now Pakistan). His promise was realised as early as 1949 when he received the Whyte Gold Medal for the Matriculation Examination standing first throughout the whole of the Punjab. In 1951, prior to entry to King Edward Medical College, Lahore (KEMC), he was awarded the Government Merit Scholarship for an outstanding performance in the pre-medical FSc Examination.
The Sutherland Memorial Gold Medal was awarded on qualifying in 1956, for standing first in the subject of medicine and, after eighteen months as a House Officer, he left for the U.K. to undertake Postgraduate education.
A mere fourteen months later, the MRCP Examination was passed at the first attempt with Neurology offered as a special subject. Another four years were spent in the U.K. working under such esteemed neurologists as J.A. (Iain) Simpson in Edinburgh and Michael Kremer at Queens Square. He was commented on having a most encyclopaedic knowledge of medicine and, despite several lucrative offers of consultant posts, in 1963 he returned home to serve his people.
He subsequently became the Pioneer Neurologist of Pakistan, introducing neurology as a separate subject at postgraduate level before single-handedly creating the departments of neurology, firstly at Dow Medical College, Karachi then KEMC. He taught neurology at King Edward Medical College to packed lecture theatres for over thirty years and, although he retired 1n 1994 as Principal of Allama Iqbal Medical College, Lahore, he always wished to be remembered as Professor of Neurology KEMC for whom he wrote an illustrated 125 history (1860-1985).
He remained active into retirement and added an MSc in Computer Science (Preston USA), in 2000, to his array of achievements.
A lover of music and literature and possessing a photographic memory he was a renowned public speaker and a master of the appropriate quote.
He is sorely missed by his wife, children and, grandchildren, friends and generations of KEMC graduates.