Designatory Letters:
LRCPLondon, MRCS Eng 1948, MRCP Edin 1957, MRCP Lond 1960, FRCP Edin 1968, FRCP Lond 1976, FRCPSG 1997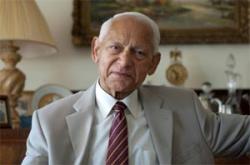 (Contributed by Dr Damian Pathy FCRP)
Professor John Pathy, a leading light in the field of Geriatric medicine, died unexpectedly on 9th April 2009.
When Professor John Pathy started his pioneering work in geriatric medicine, 65 years of age was geriatric. Above this age, most patients who became unwell were nursed with little hope of surgical, medical or rehabilitative therapy. He transformed the care of older people throughout South Wales with a holistic, multidisciplinary approach that allowed him to achieve so much, at a time when this type of approach was very rare. His work drew national and international praise and attention.
Qualifying from Kings College, London in 1948 his initial training in infectious disease at Ilford Isolation Hospital was to be of importance when he was to manage an outbreak of Smallpox in South Wales in 1961. His experience at Llwynypia Hospital in the Rhondda valleys (1952-1958) transforming the care of patients who had been "parked" there, gave him his lifelong interest in the newly developing and somewhat unpopular field of Geriatric Medicine.
He had an unquenchable thirst for medical knowledge, a clinician who treated patients and colleagues with respect and dignity ensuring an enduring appreciation. He was also prolific with research, teaching and lecturing. He published over 130 scientific papers, contributed widely to medical textbooks and edited a two volume reference book in Geriatric Medicine. He was awarded many national and international awards including the Foundation medal from the British Geriatric Society.
He became foundation Professor of Geriatric medicine at University of Wales, College of Medicine in 1979 and was a visiting professor at University of Hong Kong 1979 and 1998. He was awarded the OBE for services to Medicine in 1991.
At the time of his death he was president of Age Concern Cymru, editing the 5th edition of a two volume textbook of geriatric medicine and involved in many other medical and charity related activities.
Colleagues, friends and family will always remember him running everywhere. This included in his beloved garden where he applied the same energies to great effect. His beloved Norma predeceased him and he leaves behind five loving children and seven grandchildren.