Specialty:
General and Public Health Medicine
Designatory Letters:
MB Edin 1948, MRCP Edin 1954, MD Birm 1962, FRCP Edin 1962, FRCP Lond 1970, FRACP 1977, FRCPS Glas 1983, FFPHM 1989, FRACMA 1980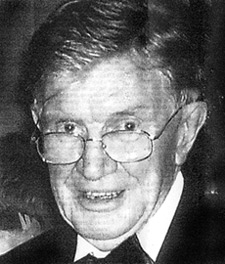 Our profession has lost a man as famous for his dinner parties as for his ward rounds, as respected for his teaching as for his clinical skills, as happy in medical administration as in the laboratory. Professor Lindsay Alexander Gordon Davidson 'Tank' as he was known at school and university, was a man as well known and revered in Birmingham as in Wales, in New York as in Glasgow, in Australia and in Central Africa. " A giant among men."
Educated at George Watson's College Edinburgh, he trained in Edinburgh, qualifying in 1948 in time to be in the first intake into the newly created British National Health Service. He later became the first Scot to be awarded the Rockefeller Travel Grant enabling him to go to New York's Columbia University.
He did his military service in Uganda and had the dubious distinction of being consulted by Idi Amin before he became the notorious despot. Back home in Britain he worked in Hartlepool, Durham, Dundee, then again in Durham as a Luccock Research Fellow. Gaining an MD Birmingham he focused on cardio-pulmonary problems and, as a visiting associate, returned to Columbia, New York.
Next we find him in what was then called Rhodesia, working as a consultant physician to the Rhodesian Ministry of Health, working in hospital for the black and white populations and setting up research projects.
His return to Scotland took him to Glasgow as a Senior Visiting Research Fellow in bacteriology and immunology, before being appointed to the University of Wales, Cardiff. Seven years later he moved to Australia as Director of the Commonwealth Institute of Health in Sydney, professor of epidemiology and consultant physician in thoracic and tropical medicine, consultant to the Flying Doctor Service, Director of the Vietnam Veterans' Herbicide Exposure Study and in demand as a lecturer worldwide.
It was while he was in Glasgow, after returning from his Australian adventures, and now working in Public Health Medicine that he was invited to administer to HM the Queen, perhaps the pinnacle of a very distinguished career.
As evidenced by his list of Fellowships his skills were recognised and appreciated by his professional and academic colleagues. Finally it must be recorded that he even found time for rugby, gaining a Scotland cap in a victorious game but as he was ever ready to point out the opponents were Uganda. He leaves his second wife of 36 years, Gillian and children June, Gavin and Claire.