Specialty:
General Internal Medicine and Nephrology
Designatory Letters:
MB Durham (UK) 1962, MRCP Edin 1965, MD 1969, FRCP Edin 1976, FRCP Lond1977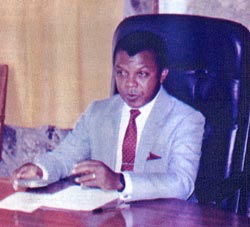 Professor Ngu was Head of the Department and Professor of Medicine and Nephrology, Dean, then Vice-Chancellor of the University of Yaounde, Cameroon.He was born in Kumba in the South West region of Cameroon, educated in the grammar school in St Joseph's College, Sasse, Cameron then in London before going to Durham for his medical studies.This was followed by post-graduate studies and research before he took up the post of Associate Professor in the Faculty of Medicine and Biomedical Sciences in Cameroon in 1971, and three years later was promoted to Professor. In subsequent years he was Co-ordinator of Clinical Sciences Unit, then Head of the Department of Medicine for 18 years before being appointed Dean of Medicine from 1983-5.
He made a significant contribution to the study of the immunology of onchocerciasis in Africa, publishing widely and making great contributions to teaching, patient care and scholarship.During his tenure of the Deanship he radidly changed the undergraduate teaching programme, introduced continuing assessment of clinical skills and end of year assessments by an international jury. These reforms won the medical school accreditation granted by the Medical examiners in Illinois, USA in 1985 and also the General Medical Council of the UK. He also set up and wrote the post-graduate specialisation programmes in Internal Medicine, Surgery, Paediatrics, Obstetrics and Gynaecology, Radiology and Clinical Laboratory specialties.
In 1985 he was appointed Vice Chancellor (Academic Head) of the University of Yaounde, a post he held until December 1990. There he restructured the Masters and Doctoral programmes so that much emphasis was placed on acquiring marketable skills. Students could obtain part of their training in local industry and businesses. Between 1991 and 1993 he was Inspector General in Charge of Higher Education at the Ministry of Higher Education.
Other posts included one with the United Nations, membership of the Rockefeller Foundation, membership of the World Health Organisation in Geneva. membership for five years of the EEC research Committee on tropical health problems. membership of a World Bank research programme in Human Reproduction and, last but not least, consultantships in West Africa, Canada and The Netherlands.
He is survived by his cardiologist wife of over 40 years, Professor Kathleen Blackett Ngu, his son Daryl and daughter Denys. All shared his deep faith and devotion to the Roman Catholic Church. His friends, professional colleagues and past students around the world are beyond number.