Designatory Letters:
BSc Univ. Coll. Wales 1952, PhD Univ. Coll. Wales 1955, FRSE 1966, FIBiol 1978, FRCP Edin 1989, FRCS Edin 1992, Hon DSc (Edin) 1996, CBE 1997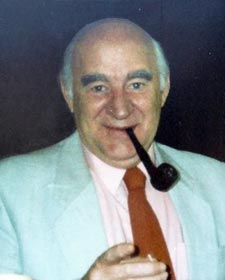 (Contributed by Professor Colin Bird)
Born on Christmas Eve in 1930, John Evans was brought up in Llanelli Wales. From an early stage it was clear that he was destined to achieve great things and during his professional life he contributed much to the development of human genetics research both through his own efforts and the opportunities he provided for others.
After completing his university education in 1955, at the University College of Wales, he was appointed to a research post in the prestigious MRC Radiobiology Unit at Harwell where he remained for the next 10 years apart from a period of sabbatical leave at the Brookhaven National Laboratory in New York. During this period he made seminal contributions to understanding how radiations and other mutagenic substances cause damage to chromosomes and how they perturb the normal cell cycle of human and other mammalian cells. This led in 1965 at the very early age of 35 years to his appointment to the Chair of Genetics at the University of Aberdeen where he continued his research until appointed in 1969 as the Director of the then named MRC Clinical and Population Cytogenetics Unit at the Western General Hospital in Edinburgh.
Over the next 25 years under his inspired leadership the Unit grew rapidly to become one of the world's leading genetics research centres. Together with his colleagues he undertook ground breaking research on various aspects of chromosome structure and function, on new ways of identifying and mapping human genes and on measuring the damage associated with exposure to environmental and occupational mutagens. It contributed significantly to setting standards that are now employed to protect humans from such harmful agents a topic still today of considerable importance internationally. During his Directorship the Unit was renamed the MRC Human Genetics Unit to reflect other interests in the study of the mechanisms of human genetic disease and of developmental genetics which together with the work on chromosomal biology still constitute the Unit's principal research interests 13 years after his retiral.
As Director he took great interest in nurturing the careers of junior staff some of whom have become world leaders in genetics research including his successor as Director of the Unit, Professor Nick Hastie. And he made it possible for many promising young women researchers to juggle the conflicting demands of family life with the pursuit of a successful career in research which still remains a problematic issue in many research centres today.
The wider clinical research community in Edinburgh also benefited greatly from his enlightened approach. He encouraged his staff to establish joint research programmes with relevant academic and NHS clinicians and he provided opportunities for young clinicians to train and to undertake research in a top class research environment enabling them to obtain higher degrees and in so doing furthering their careers. He helped the Medical School also to establish two key new research facilities at the Western General Hospital – the Molecular Medicine Centre and the Edinburgh Cancer Research Centre – paving the way for subsequent research developments of great importance for the School at this site.
Despite the many demands of managing such a large enterprise he still found time to undertake a wider role on the national and international scene. He sat on numerous committees in this country and overseas charged with determining policy and the most effective use of resources available for genetics and other forms of biomedical research. Often he was asked to chair such groups where his consummate skills in bringing together the disparate views of the individuals concerned in a prompt and effective way were much admired. A gifted speaker and communicator he was invited to give many prestigious lectures in this country and abroad and he was awarded a number of international prizes for his research contributions.
Although a proud Welshman by birth John had a great love of Scotland and of all things Scottish. His island holiday home in Barra brought him and his wife Ros great pleasure which they loved to share with those fortunate enough to stay with them. And he was an enthusiastic supporter of Scotland at football and rugby except when playing Wales when not surprisingly his native instincts came to the fore. He also had a great fondness for Scotland's most famous product – malt whisky - and an evening spent having dinner at their Edinburgh home was never quite complete until a tasting of his latest acquisition had been partaken.
John Evans was a most kind and generous man to friends and colleagues alike despite having to deal with more than his fair share of life's adversities which he endured without complaint or rancour. His ready smile and cheerful attitude were truly infectious which made him such splendid company in all circumstances. He achieved a great deal in his life but always remained humble and unassuming about all that he had accomplished. He touched and influenced the lives of so many individuals with whom he came in contact and will be remembered by them all with great fondness, gratitude and admiration.