Specialty:
Paediatrics/Community Child Health
Designatory Letters:
MB Nagpur 1952, MRCP Edin 1960 Child Life, DCH Lond 1960, FRCP Edin 1969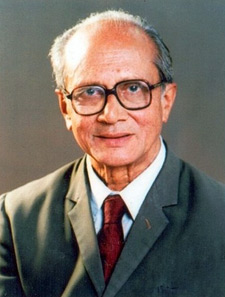 (Contributed by his daughter, Dr Poorvaali Sur)
Professor Anand Sur was a pioneer paediatrician in India who founded the department of paediatrics at the Government Medical College in Nagpur.
He made paediatrics a separate subject to be studied at final M.B. B.S. level for the first time in India.
He was the youngest son of Rai Saheb, Mr. Rajendranath Sur, a civil engineer responsible for the Mahanadi dam project.
A man of great charm and erudition he touched many lives with his expert knowledge and humanitarian principles.
He grew up in Chattisgarh where he was one of the best students of his year and at medical college, won the gold medal for being first in his B.M., B.S. exams.
He was an accomplished linguist with a command of English, Hindi, Bengali, and Marathi. He could also converse in Chattisgarhi and Sanskrit, and was a great orator.
Anand Sur worked for some time in the U.K. and trained at the Royal Hospital for Sick Children in Edinburgh, and Great Ormond Street Hospital in London.
After passing MRCP and DCH exams he became the youngest and first FRCP (Ed) in central India.
His theory of the cause, and management of Indian childhood cirrhosis was published in the B.M.J. and he also published work on childhood asthma and made many other original contributions to British medicine.
He was formerly a fellow of the W.H.O. and the Association of Commonwealth Universities, London. He was awarded the degree of FICMCH, India, and was Regional adviser for Western India to the Royal College of Physicians of Edinburgh until his death, following a fracture neck of femur and subsequent pulmonary and cardiac complications.
He leaves a widow, Sobita, a son Abhishek, and a daughter Poorvaali, who is training as a doctor in the U.K.