Designatory Letters:
MB ChB Edin 1956, MD Edin 1962, PhD Edin 1968, MA Cantab 1968, C Chem FRSC 1976, FRCPath 1974, FRCP Edin 1991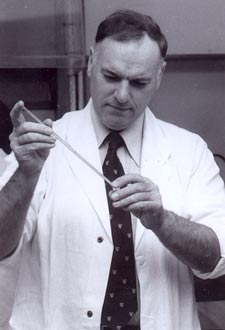 (Contributed by his son, Neil Renwick)
Following National Service, Alistair forged his interests as a physician-scientist at Edinburgh University Medical School. As an undergraduate, his interest in paediatric diseases earned him the Thompson Memorial Medal in Child Life and Health. Graduating M.B Ch.B in 1956, he was awarded a Fulbright Travelling Scholarship and the Frank Knox Memorial Fellowship to Harvard Medical School where he completed an internship in Pathology at the Children's Medical Centre, Boston. Returning to the UK he pursued his clinical and research interests, highlighted by a stimulating appointment as Registrar in Chemical Pathology at the Hospital for Sick Children, Great Ormond Street, London in 1960.
Certain that biochemistry would become a cornerstone of daily medical practice, Alistair returned to Harvard University as a Nuffield Travelling Fellow in Medicine in 1962; he spent the following three years working on the mechanisms of hormone action in the laboratory of Dr. Paul Zamecnik. On his return to the UK he continued his scientific career, generously supported by the Walter Dixon Memorial Scholarship of the British Medical Association, the Lalor Foundation Fellowship in the Biochemistry of Reproduction, a British Medical Association Research Award and a Meres Senior Studentship in Medical Research. He was appointed Visiting Scientist and later Principal Scientific Officer at the Agricultural Research Unit for Reproductive Physiology and Biochemistry, Cambridge, in 1966. Alistair was delighted to serve as Fellow and Tutor at St. John's College, Cambridge between 1968-73.
In 1974, Alistair accepted the position of Professor of Biochemistry at the University of Auckland. Under his leadership the emergent Department developed full teaching and postgraduate courses in the Faculties of Medicine and Science, and a lively research culture. As Director of the National Hormone Laboratory, he developed a far-reaching programme characterizing the carbohydrate groups of human glycoprotein hormones. He served on many National and International Committees for Education and Research. A member of the Council of Federation of Asean and Oceanian Biochemists, he advised on Postgraduate Education in South East Asia. He was Rockefeller Visiting Professor in Biochemistry at Mahidol University in 1978 and in 1984 he was awarded a Senior Fellowship of the Japan Society for the Promotion of Science, and appointed Visiting Professor in Biochemistry at the University of Tokyo, the first award to a foreign scientist for cancer research by the Japanese Ministry of Education, Science and Technology.
Alistair did not take kindly to retirement. In 1993 he accepted an invitation to work in Malaysia, first as Tun Zaidi Visiting Professor in Biochemistry, Sarawak and then as Professor of Biochemistry, International Medical University, Kuala Lumpur. As a resident of Malaysia, Alistair furthered his interest in local history, undertaking research and writing and publishing a book about a young Scots explorer who was murdered in Borneo in 1851.
His was an unusual life. As a physician-scientist, he will be remembered for his major contributions to Biochemistry both internationally and in New Zealand. Through his teaching he inspired many and always he promoted excellence in the pursuit of medicine and research. No narrow academic, Alistair was much loved and held in high regard by all who knew him. Witty, erudite, kind and generous, Alistair was a marvellous raconteur and tremendous fun. His wide-ranging interests included music, art, fishing, ballet, ceramics and travel.
Alistair was diagnosed with pancreatic cancer in Kuala Lumpur in 2005 and continued to work there, sustained by the support and prayers of colleagues and friends of all religious denominations. He returned to Auckland where he died peacefully, writing and teaching until shortly before his death.
Alistair was a wonderful husband, father and grandfather who will forever remain in the hearts of his wife, Catriona, his children, Claire, Jane, Lindsay, Alistair and Neil and his seven grandchildren.