Specialty:
General Internal Medicine
Designatory Letters:
MB Edin 1960, MRCP Edin 1967, Md Edin 1968, FACP 1974, FIDSA, Dip ABIM USA 1982, FRCP Edin 1982, Dip ABID USA 1983, Dip ABAll & Imm USA 1984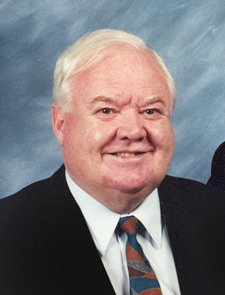 (Contributed by his wife, Elizabeth Forbes Philp)
Professor Emeritus James R Philp University of Alabama, died 26 May 2009 in South Carolina.
He qualified at Edinburgh University1960; BSc, MD, FRCPE, FACP.
He graduated from Beath High School, Scotland as School Captain 1954. At Edinburgh University he was a Thomas Cowan Scholar, and was awarded the Jamieson Prize in Anatomy and the Gunning Victoria Jubilee Prize in Bacteriology . His MD with Commendation was awarded for research into treating thyrotoxicosis with Ionizing radiation. He held successive academic appointments at Edinburgh, Aberdeen, Florida, Wake Forest NC and Alabama. He was widely published and a recognized authority on Adverse Drug Reactions, Immunobiology and Problem Based Education
He was the first to discover the phenomenon of Amplified Lymphokine Production and a hitherto unrecognized heat labile low molecular weight lymphokine that could instruct virgin lymphoid cells to respond to antigen by production of other lymphokines. At the University of Alabama he was appointed Chair of the Department of Medicine in 1992 and then Senior Associate Dean in 1993, and retired to South Carolina in 2002. He was as devoted to excellence in the education of medical students and residents as he was knowledgeable in his favourite subjects of medicine, theology and music. A member of the Presbyterian Church, he served as an Elder. He had a strong personal interest in Theological Philosophy and was a gifted violinist and vocalist. These gifts, along with his vibrant personality provided many memorable occasions with family and friends. As a devoted husband, father and educator , he took great joy in the successes of those he nurtured. He is survived by his wife of 48 years, Elizabeth Forbes MB., ChB. Ed 1963 a retired Professor of Family Medicine, a daughter Alison a practicing obstetrician and gynaecologist in Charleston South Carolina, and sons Ian, a computer mathematician in Los Alamos New Mexico, and Graeme a lawyer also in Charleston and seven grandchildren.