Specialty:
Respiratory/Thoracic Medicine
Designatory Letters:
MB NZ 1948, MRCP Edin 1952, MD NZ 1955, FRACP 1965, FRCP Edin 1969, MACCM 1981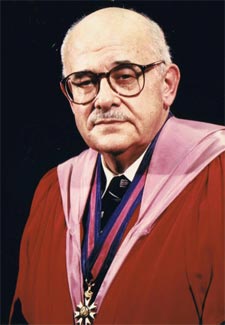 (This obituary was first printed in The New Zealand Medical Journal*)
John Hiddlestone died in Nelson on 27 January, aged 82. He was born in Auckland, the son of Rev John Hiddlestone (a distinguished chaplain in World War 2), and educated at Auckland Grammar School.
When he was in the 4th form, his father was reported missing (believed killed) on Crete, just when his mother was undergoing radiotherapy for cancer, and the young John was mentored by a close friend of his father's, Douglas Robb, who remained a friend throughout his later career.
He went to Otago Medical School, graduating in 1948. While there, he served on the OUMSA Executive for 6 years, two of them as President, and in 1947 he was awarded the Fowler Scholarship.
After residencies at Nelson Hospital he went to the UK in 1952, initially to Edinburgh, where he gained an MRCPE and joined the staff of the professorial chest unit and commenced research on the biochemistry of serous pleural effusions—the basis of his MD thesis.
He was appointed to London's Brompton Hospital, then to the Sully Cardiothoracic Hospital in south Wales.
John returned to New Zealand in 1954, working as full-time specialist and area chest physician at Nelson Hospital, where in 1963 he was appointed medical superintendent. Three years later he was appointed Superintendent-in-Chief at Invercargill's Kew Hospital, continuing work begun by Sir Charles Burns that led to a rejuvenation of services there.
In 1969 he joined the Health Department, becoming director of the Hospitals Division and, following the death of DP Kennedy in 1973, Director General of Health. He was deeply involved in health service reorganisation and served seven Ministers of Health until 1983. John remained a member of the NZMA throughout this time.
Two ministers in particular paid John great compliments. One was the Hon George Gair who, when an ex-Treasury official had drafted a bill to remove the requirement that the Director General be medically qualified, stated he "always felt better if accompanied by so distinguished a doctor as John Hiddlestone when fronting up to the NZMA", and the bill was dropped.
In later years, looking back on the time when they had worked together, the Hon Aussie Malcolm wrote to John, "I respect you as a person and as an official, as much as I do anyone I have ever worked with. Your wise understanding of the bureaucracy and my youthful willingness to take on political challenges may have constituted one of the most successful health administrations. I regretted your departure and genuinely wish that we had both been around to tackle the challenges of the mid-1980s."
When John retired after 10 years as Director General, two awards gave him particular pleasure. One was his election as a Fellow of the NZMA. Upon announcing this, the Chairman of Council Jeremy Hopkins wrote to him saying the award was in appreciation of John's role as a bridge between the Association and the government. The other award was the first and only Fellowship of the Pharmaceutical Society. As Director General, John had valued strong relationships with many groups of health professionals, and the relationship with the Pharmaceutical Society was especially significant for him.
Like two of his predecessors, HB Turbott and DP Kennedy, John played a major role representing New Zealand in the World Health Organization (WHO). He was Vice-President of the World Health Assembly in 1975, elected to the Executive Board of WHO, and appointed Chairman in 1982.
While Chairman, he took a leading role in dealing with a problem concerning the Arab states and Israel, and was subsequently invited by Dr Halfdan Mahler, Director General of WHO, to become Director of Health and WHO Representative to the United Nations Relief and Works Agency (UNRWA), the agency caring for 2.4 million Palestinian refugees in Lebanon, Syria, Jordan, the West Bank, and the Gaza Strip. He served 5½ years in this post, instigating and seeing through considerable improvements to the provision of health services to refugees.
John was elected to the board of the International Hospitals Federation and, in 1983, invested at Buckingham Palace as Companion of The Most Distinguished Order of Saint Michael and Saint George.
In 1988 John retired and returned to New Zealand, where he took on a great deal of voluntary work. He became national president of NSAD, chairman of the board of the Home of Compassion, and a member of the board of the Te Omanga Hospice. A devoted freemason for over 50 years, he was appointed President of the Board of Benevolence, taking particular interest in the Freemasons Chair of Geriatric Medicine in Auckland, paediatric research based at Otago Medical School, and support of research by the Auckland Medical Research Foundation. At the time of his death, he was Past Deputy Grand Master of the Grand Lodge of New Zealand.
John was also a keen Rotarian for over 50 years and a member of two Probus clubs. He was president of the Nelson, Invercargill South, and Wellington Rotary clubs and received Rotary's highest recognition as a Sapphire Paul Harris Fellow. He was president of Khandallah Probus and later the Trafalgar club in Nelson.
A son of the manse, John attended Presbyterian churches in Nelson, Invercargill, and Wellington. He later joined Nelson Cathedral, where he was an official guide, sidesperson, and reader.
John married Rosina Maclean, a nurse, in 1949 and their life together was a wonderful partnership. John is survived by Rosina, their 5 children, and 12 grandchildren. John Hiddlestone wrote this obituary prior to his death. The Hiddlestone family and John Ryder also provided assistance.
*This obituary was reprinted with permission from The New Zealand Medical Journal
Journal of the New Zealand Medical Association
NZMJ 15 February 2008, Vol 121 No 1269; ISSN 1175 8716
©NZMA